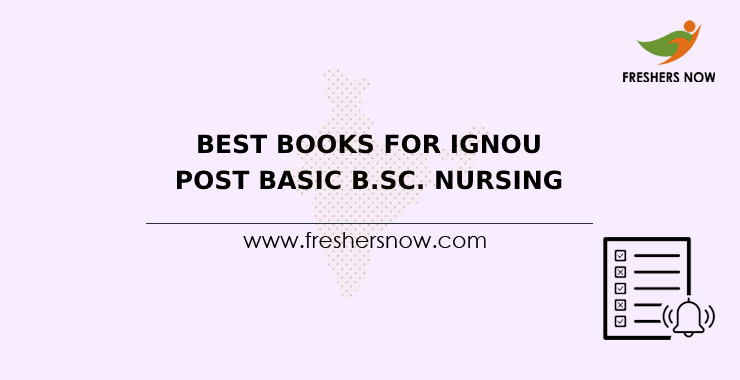 Best Books for IGNOU Post Basic B.Sc. Nursing 2022 Preparation: The right books for the right exam. Here you have the Best Books for IGNOU Post Basic B.Sc. Nursing 2022 Preparation. Candidates preparing for IGNOU B. SC Nursing should be well aware that the books that you are using for your preparation must be the right fit for your preparation criteria. Additionally, it is essential to take notes at your convenience so that you will not miss any of the lists of books that are mentioned in this article. Take a good read and implement these Books for IGNOU Post Basic B.Sc. Nursing in your Preparation. Follow along and take your best books handy.
Subject Wise IGNOU Post Basic B.Sc. Nursing Books
Anatomy and Physiology
Anatomy and Physiology for Nurses by Roger Watson
Sensory Systems: Anatomy, Physiology and Pathophysiology by Aage R. Moller
Basic Anatomy And Physiology by Murgesh
Textbook Of Anatomy And Physiology For Bsc Nursing by KHURANA I.
Microbiology books
Textbook of Microbiology by Naveen Kango
Essentials of Medical Microbiology by Sastry Apurba S and Bhat Sandhya
Microbiology by Michael Pelczar
Textbook Of Microbiology For Nursing by Dr. C.P. Baveja
Psychology and Sociology Books
Educational Psychology | Fourteenth Edition | By Pearson by Anita Woolfolk & Preeti Kapur
Sociology: Principles Of Sociology With An Introduction To Social Thoughts by Rao C.N. Shankar
Textbook Of Sociology For Nurses As Per Inc Syllabus by T.K. Indrani
Fundamentals of Nursing and First AID
A Text-Book of FUNDAMENTALS OF NURSING for First Year B.Sc Nursing by Dr. S.Anuradha
Fundamental of Nursing for GNM: (1st Year) by Poonam Sharda
First Aid For Nurses by T.K. Indrani
Nursing Foundation Fundamentals of Nursing and First–Aid GNM 1st Year Solved
Question Bank by S Naithani
Medical-Surgical Nursing I and Community Health Nursing
Medical-Surgical Nursing I & II by Sethi Deepak
MEDICAL SURGICAL NURSING I AND II by Deepak Sethi and Rani Kirti Maj
Textbook Of Community Health Nursing Ii For Bsc Nursing (Pb 2020) by MANIVANNAN S.D
Community Health Nursing 4th Edition by KESHAV SWARNKAR
Communicable Diseases Nursing
Communicable Diseases: A Global Perspective by Roger Webber
Control of Communicable Diseases Manual: An Official Report of the American Public
Health Association by David L. Heymann
Computer Education Nursing
Computer Education for B.Sc. Nursing by N. Nagendra Reddy
Computer 4 Nurses As Per The Syllabus Of Inc For Bsc (N) & Gnm (Pb 2020) by RANDHIR P
Oncology/ Skin Nursing Books
Principles of Skin Care and the Oncology Patient by Marilyn Haas and Gigi Moore-Higgs
WINTROBES CLINICAL HEMATOLOGY 14ED (HB 2019) by GREER J.P.
Include these Best Books for IGNOU Post Basic B.Sc. Nursing and surely you will ace your preparation. Follow Exams.Freshersnow.Com for more informative articles.