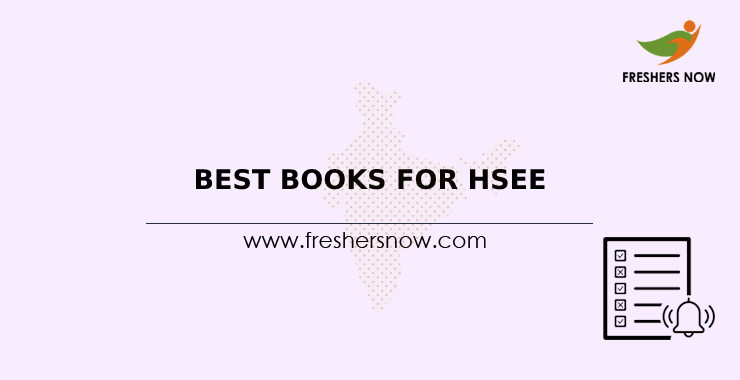 Best Books For HSEE 2022 | HSEE Preparation Books: HSEE Preparation Books are well ordered here. Looking for Best Books For HSEE 2022. Here are the HSEE Preparation Books. You would want to miss any of them. This is the right article that is going to give you adequate guidance with the list of Best Books For HSEE 2022. Additionally, it is to be taken under prior importance about your preparation level. Eventually, you will be able to understand the type of preparation books for HSEE that you intend to pick. Follow along and do miss any of the HSEE books mentioned in this article.
Important Books for HSEE 2022 Exam
This section of the article will guide you through Important Books for HSEE 2021 Exam. take notes at your convenience. So that you will not miss any of the list of important books for HSEE 2022.
Contemporary World Politics Textbook in Political Science for Class – 12
Introductory Macroeconomics for Class 12
Indian Economic Development for Class 12
Wren & Martin High School English Grammar and Composition Book
Word Power Made Easy – Norman Lewis
B.A 1st year Indian History – Culture
A Modern Approach to Verbal & Non-Verbal Reasoning – RS Aggarwal
Fast Track Objective Arithmetic – Rajesh Verma
Fundamentals of Biology: CBSE Class 12
General Knowledge 2021
Contemporary India Part – 2 Textbook in Geography for Class – 10
Fundamentals of Physical Geography – Textbook for Class – 11
Fundamentals of Human Geography for Class – 12
Environment and Ecology: For Civil Services Preliminary and Main Examination and
Competitive Examinations
10 Years Sociology Class-12th CBSE Syllabus & Sample Paper For 2020
IIT Madras Humanities and Social Sciences Entrance Examination
Satish CBSE Class 12 Sociology Solved Ten Years Papers For 2020
Humanities and Social Science HSEE previous yearbooks
Quantitative Aptitude – R. S. Aggarwal
Class 10 NCERT Maths Textbook CBSE
The Ultimate Guide for BBA/BBS/BBM Entrance Examinations by Arihant
BBA Entrance Examination by S. Chand
General Knowledge by Arihant
Concise General Knowledge Manual by Pearson Education
General Studies – 10000+ Objective MCQs by Disha Publication
Objective General English – R. S. Aggarwal
501 Challenging Logical reasoning Practice Book – Learning Express
History Of Modern India – Bipin Chandra
Manorama Year Book – Mammen Mathew
Objective General Studies – O P Varma
Pratiyogita Darpan – Editorial Board : Pratiyogita Darpan
The Economist
The Hindu
To conclude, this Best Books For HSEE 2022 will help you ace your exam. Implement these HSEE Preparation Books on a daily basis. Follow for more informative articles only here at one place at Exams.Feshersnow.Com.