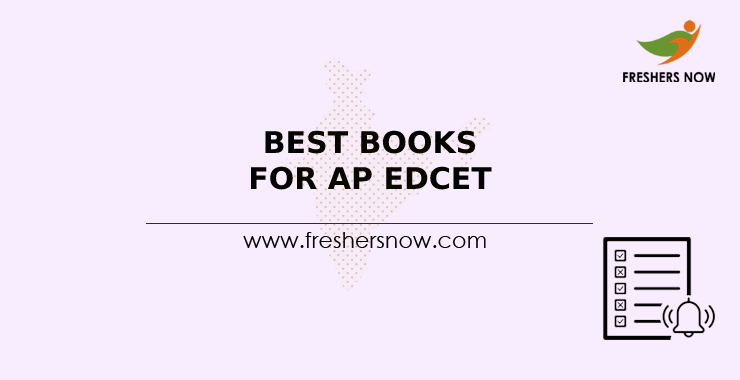 Best Books for AP EdCET 2022 Preparation | AP EdCET Books: Best Books for AP EdCET 2022 Preparation is what you would be needing for the exam. Through AP EdCET Books you can enhance your preparation. Note that, there are plenty of excellent AP EdCET books readily available for B.Ed entrance tests. Hence, you are advised to read through this page for the list of best books for AP EdCET. Check out these reference books for AP EDCET 2022. These reference books will surely be extremely helpful in understanding the structure of examination and pattern of questions. Additionally, you can cover the topics according to the syllabus structure. Subsequently, you can be comprehending fundamental concepts of topics that are tested in the AP EdCET examination.
Best Books for AP EdCET 2022 Preparation
Teaching Aptitude and Attitude Test – Abha Malik
Lucent's General Knowledge
General Knowledge by Arihant
Rapid General Knowledge 2020 for Competitive Exams by Disha Experts
IGNOU B.Ed Previous Years Papers – J. K Chopra
B.Ed Entrance Examination – Ramesh Publishing House
B.Ed Guide – Anmol Publisher
English Grammar and Composition by SC Gupta
Word Power Made Easy by Norman Lewis
Optics and Modern Physics by DC Pandey
MCQ Question Bank by D Mukherjee
Concepts of Physics by HC Verma
Objective English for Competitive Examination by Hari Mohan Prasad and Uma Sinha
IGNOU B.Ed Entrance Exam Guide – R P H Editorial Board
Encyclopedia of General Science for General Competitions by Experts Compilation
General Science by Disha Experts
Quick General Science for Competitive Exams by Disha Experts
AP EdCET -.A.P. Education Common Entrance Test – for admission to B.Ed. By Dr. Chandresh Agrawal
To conclude, Best Books for AP EdCET 2022 Preparation is what you have read through. This AP EdCET Books will surely give you the ultimate success. Implement these books in prep. Do not forget to follow us at Exams.Freshersnow.Com for the best exam guidance in one space.