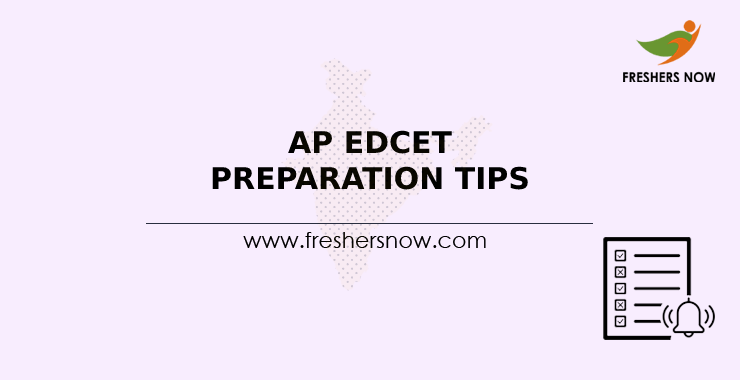 AP EdCET 2022 Preparation Tips | Preparation Strategy, Study Material: AP EDCET 2022 Preparation Strategy is structured in this article. Students preparing for AP EdCET 2022. You need to have the best AP EdCET 2022 Preparation Tips. Therefore, having a proper strategy will you to allocate time for all the subjects. To mark upon, AP EDCET 2022 has three sections. So you need to be vigilant enough to manage your time and practice quick solving patterns. Go through the following sections to know more details about the AP EdCET 2022 Preparation Tips.
AP EdCET 2022 Preparation Tips | Preparation Strategy, Study Material
| | |
| --- | --- |
| Organization Name | Andhra Pradesh State Council of Higher Education (APSCHE) |
| Exam Name | AP Education Common Entrance Test (AP EdCET 2022) |
| Category | Preparation Tips |
| Exam Purpose | Admission into B.Ed (Two years) Regular Course in the Colleges of Education in Andhra Pradesh State |
| Official Website | cets.apsche.ap.gov.in |
How To Prepare For AP EdCET 2022?
Firstly, the sections on General English and General knowledge demand sectioning and timely revision. As there are bulk topics to prepare you need to have track of the topics that you are practicing.
Secondly, the Aptitude section needs solving patterns. As this section demands quick solving and patterns of solutions. This will help the students to be aware of the methodologies that they are adopting for solving.
Finally, in Section C, you have to choose one subject from the options. You need to be aware of your foundations. The basic concepts only will help you analyze the further topics with ease. So, ensure that you are making your foundational concepts stronger.
AP EdCET 2022 Test Pattern
Subject Name
No Of Questions/ Marks
No Of Marks
Time Duration
Part A
2 Hours
General English
25 Questions
25 Marks
Part B
General Knowledge
15 Questions
15 Marks
Teaching Aptitude
10 Questions
10 Marks
Part C
Mathematics
100 Questions
100 Marks
Physical Sciences
Physics
50 Questions
50 Marks
Chemistry
50 Questions
50 Marks
Biological Sciences
Botany
50 Questions
50 Marks
Zoology
50 Questions
50 Marks
Social Studies
Geography
35 Questions
35 Marks
History
30 Questions
30 Marks
Civics
15 Questions
15 Marks
Economics
20 Questions
20 Marks
English
100 Questions
100 Marks
AP EdCET 2022 Preparation Tips
To begin with, list out the syllabus and the topics that are relevant for AP EdCET 2022 Preparation.
Then, do take notes as per the preparation of the topic. This way you can sort out contexts over priorities.
Next, you need to focus on the sub-topic elements that are interconnected to the main source of the topic.
Therefore, make a structured study plan that includes regular timely breaks.
In addition, make assessments over the revision sets and practice papers.
Fourth, hereon, you need to include practicing old question papers. This is an effective AP EdCET preparation tip that can fasten your preparation.
Finally, seek guidance from experts. Through this, you can make sure that you are following the right path for solving.
To conclude, AP EdCET 2022 Preparation Tips are well listed here in this article. Grab the best AP EdCET 2022 Preparation Strategy and Study Material. All the best. Follow Exams.Freshersnow.Com for qualitative articles.