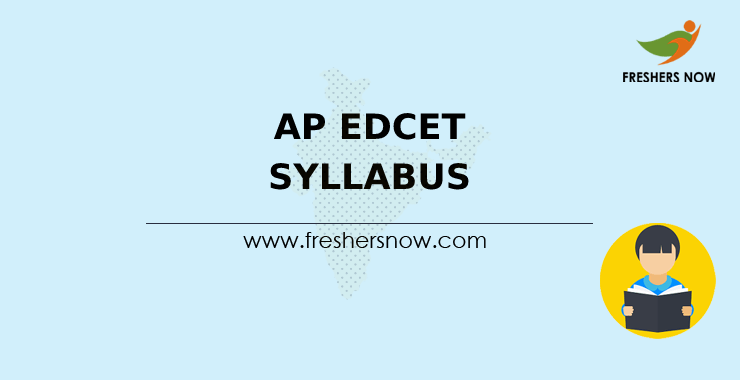 AP EdCET Syllabus 2022 PDF Download & Exam Pattern: Are you looking for AP EdCET Syllabus 2022? Then you are in the right place. Aspirants who have applied for the AP Education Common Entrance Test (AP EdCET) can check out this post. We are providing you with the finest syllabus and test patterns. In addition to this aspirants can click on the links that we are providing you at the bottom of the article. In the below sections, we have also provided the AP EdCET Exam Pattern 2022 in detail. So, by clicking on the links aspirants can easily redirect to the official website. Moreover, by using the AP EdCET Syllabus 2022 aspirants can easily gain the minimum knowledge on the entrance exam test.
As you see the above table, aspirants can check the name of the organization, the name of the post, the number of vacancies, the date of the written exam, etc. So, regarding more doubts and queries you can visit the official web portal of Andhra Pradesh State Council of Higher Education @ sche.ap.gov.in. Therefore, with the help of the above table, aspirants can get a clear overview of the AP EdCET Syllabus 2022.
AP EdCET Syllabus 2022 – Details
| | |
| --- | --- |
| Name Of The Organization | Sri Venkateswara University, Tirupati (SVU), Tirupati |
| Name of The Post(s) | AP Education Common Entrance Test (AP EdCET) |
| Category | Entrance Exam Syllabus |
| Official Website | cets.apsche.ap.gov.in |
AP EdCET Exam Pattern 2022
Subject Name
No Of Questions/ Marks
No Of Marks
Time Duration
Part A
2 Hours
General English
25 Questions
25 Marks
Part B
General Knowledge
15 Questions
15 Marks
Teaching Aptitude
10 Questions
10 Marks
Part C
Mathematics
100 Questions
100 Marks
Physical Sciences
Physics
50 Questions
50 Marks
Chemistry
50 Questions
50 Marks
Biological Sciences
Botany
50 Questions
50 Marks
Zoology
50 Questions
50 Marks
Social Studies
Geography
35 Questions
35 Marks
History
30 Questions
30 Marks
Civics
15 Questions
15 Marks
Economics
20 Questions
20 Marks
English
100 Questions
100 Marks
Contenders can now check AP EdCET Exam Pattern 2022 from the above table.
The subjects include General English, General Knowledge, Teaching Aptitude, Mathematics, Physical Sciences, Biological Sciences, Social Studies, and English.
And the total marks allocated for the examination are 550 marks.
Also, there are negative marks.
Aspirants have to keenly read the question before answering as there is negative marking.
The total time allocated for the examination is 2 hours.
So, we suggest the candidates attend an online mock test to attain time management.
Time management is the main aspect of competitive exams.
Subject Wise AP EdCET 2022 Syllabus
Covering The Degree Subjects (B.A., B.Com. B.Sc.) For The Period 2019-2022. Syllabus for the subjects under Part-A, Part-B, and Part-C of AP Ed.CET-2022.
PART-A: GENERAL ENGLISH
Reading Comprehension.
Correction of Sentences, Articles, Prepositions, Tenses, Spelling.
Vocabulary, Synonyms, Antonyms.
Transformation of Sentences – Simple, Compound, and Complex. Voices, Direct Speech, and Indirect Speech.
PART-B: GENERAL KNOWLEDGE & TEACHING APTITUDE
Questions will be designed to test the ability of the candidate's general knowledge of the environment around him and its application to society.
Questions will also be designed to test knowledge of current events and of such matters of everyday observation and experience in their scientific outlook as is expected of an educated person.
The test will also include questions relating to India and its neighboring Countries especially pertaining to History, Culture, Geography, Ecology, Economics, General Policy, and Scientific Research.
Teaching requires certain characteristics like the ability to communicate, ability to deal with Children, the ability to recognize individual differences, etc., apart from analytical thinking and general intelligence. One who has these characteristics will be able to become a good teacher after training. Questions relating to these aspects will be included to test one's teaching aptitude.
PART-C: One of the following subjects to have opted
Mathematics(MS)
Physical Sciences (Physics and Chemistry)(PS)
Biological Sciences (Botany and Zoology)(BS)
Social Studies (Geography, History, Civics, and Economics) (SS) (For these four subjects Syllabus shall be of graduation level (revised common core degree syllabus)
English [Special English in B.A.]
The Syllabus for Part C for Subject: English shall cover
Syllabus pertaining to English for Classes VIII, IX, and X and that for the Two-Year Intermediate course of A.P-50 Questions (50Marks)
Topics: i) Language functions ii) Elements of Phonetics iii) Grammar iv) Phrasal Verbs (idioms) v) Writing skills vi) Study skills vii) Reference skills
The syllabus prescribed for Optional English at B.A. Degree Level (B.A. Special English)/ Modern Literature Syllabus in English-50 Questions (50marks)
AP EdCET Syllabus – Important Link
To Download AP EdCET Syllabus 2022 PDF
Click Here
Furthermore, we hope that the information we are providing to you is useful and helpful. For, the candidates who are willing to apply for the AP EdCET 2022 Exam. For, more queries and updates regarding AP EdCET Syllabus 2022 PDF Download and Exam Patternkeep following our website Exams.FreshersNow.Com.