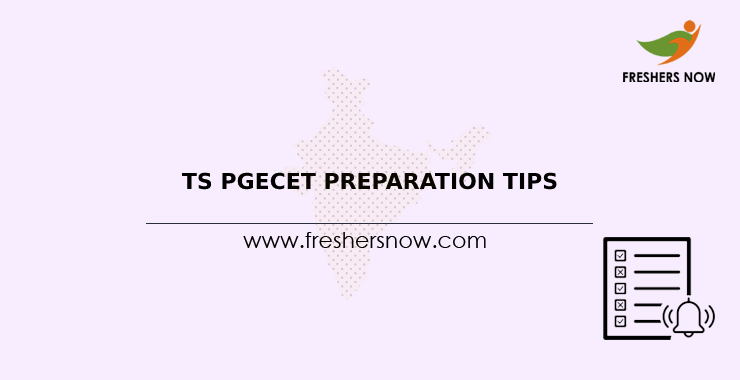 TS PGECET 2022 Preparation Tips | Preparation Strategy, Study Guide, Material: Eagerly waiting to do Post Graduation in Engineering in Telangana, you need to attempt the TS PGECET exam. After applying for the exam, there will be a question about how to prepare for the TS PGECET exam? All the candidates who are carrying this question can clear it off by reading this article. TS PGECET is a university-level exam to give admission to all engineering candidates. All you need to do is dedicate yourself to the entire exam preparation. To be a helping hand in your exam preparation we have provided TS PGECET preparation tips, preparation strategies, and study plans. Scroll down to understand all the points given in the sections below.
TS PGECET 2022 Preparation Tips | Preparation Strategy, Study Guide
| | |
| --- | --- |
| Organization Name | Telangana State Council of Higher Education (TSCHE) |
| Exam Name | Telangana State Post-graduate Engineering Common Entrance Test (TS PGECET) |
| Category | Preparation Tips |
| Exam Purpose | Admissions into Regular PG Courses in Engineering, Technology, Architecture, Pharmacy for the academic year 2022-23 |
| Official Website | tsche.ac.in or pgecet.tsche.ac.in |
How To Prepare For TS PGECET Exam?
Candidates need to have an equilibrium between body and mind if one cannot operate properly in preparation time then it will be hard to study. Exams like these might be a little hard to crack but proper strategy and tips can help the candidates to excel in the TS PGECET exam.
Initially, candidates need to refer to previous question papers
Secondly, Examine the exam paper format and understand it thoroughly
Thirdly, Utilize the time wisely and cover all the topics
Fourthly, Allot a particular set of times for each the section
Finally, Time management is very crucial
Telangana PGECET Test Pattern
Computer Based Test (CBT) is of two-hour duration with 120 multiple choice objective type questions, carrying one mark for each question. No negative marks will be awarded for incorrect answers. The cut-off mark in the Common Entrance Test is 30 marks, in the case of SC/ ST there are no minimum marks.
TS PGECET Preparation Strategies
A competitive exam needs a perfect strategy to crack any sort of exam. It's all up to candidates, which strategy they will prefer in their exam preparation. So, we have provided TS PGECET Exam Preparation Strategies in this section. Check out them:-
Understand the mark scheme allotted for each topic and study accordingly
Follow the right resourced material to have a right knowledge
Before you start your preparation, a have hard copy of the syllabus paper is a must
Practice online tests to check out your mistakes and work on them
Clear cut knowledge of the topics before you widen up the syllabus
Take guidance from your teachers to clear all your doubts/confusion
Write short notes on all the topics to revise at the last minute
TS PGECET Preparation Tips
Simple tips will be a push-up to cover the syllabus without any issues. In this section, we have given TS PGECET Exam Preparation Tips. Follow them according to your convenience. Check out them:-
Thorough with the syllabus structure which is prescribed
Maintain perfect resources to study
Frame a strategic timetable to cover the whole syllabus
Follow the preparation plan rigorously
Try to execute the time management skills in a right way
Apply for an online series of test
Learn your mistake and properly focus on them
Give extra time for all your weak topics
Do not divert yourself from your goal
Discuss with your friends to enlarge your mind
List down all the important formulas and memorize them
Increase your speed and accuracy
TS PGECET Study Plan
This section of the article is going to be a quick guide for TS PGECET Exam Study Plan. Candidates who need a study plan can follow it. Check out them:-
Firstly, Understand the exam paper pattern and syllabus
Secondly, Good to start your difficult topics in the early morning
Thirdly, Time management is compulsory
Fourthly, To remember, make short notes
Finally, Analyze your preparation level
Ts PGECET Preparation Material
Links To Download TS PGECET Previous Question Papers – Important Link
Download TS PGECET Aerospace Engineering Previous Paper PDF
Click Here
To Download TS PGECET Bio-Technology Model Paper PDF
Click Here
Download TS PGECET Chemical Engineering Previous Year Question Paper PDF
Click Here
To Download TS PGECET Civil Engineering Old Question Paper PDF
Click Here
Download TS PGECET Computer Science and Information Technology Sample Paper PDF
Click Here
To Download TS PGECET Electrical Engineering Solved Paper PDF
Click Here
Download TS PGECET Electronics and Communication Engineering Practice Paper PDF
Click Here
To Download TS PGECET Food Technology Question Paper PDF
Click Here
Download TS PGECET Instrumentation Engineering Previous Year Paper PDF
Click Here
To Download TS PGECET Mechanical Engineering Old Paper PDF
Click Here
To conclude, We hope that candidates are very clear with all the questions and doubts. This article has provided you with all the sections of the TS PGECET exam. Work hard and Utilize your time wisely to crack the TS PGECET exam. For further articles and information stay connected to our website @ Exams.Freshersnow.Com.