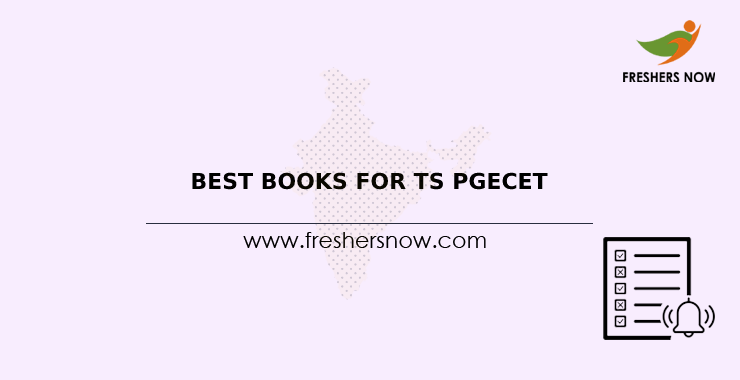 Best Books for TS PGECET 2022 Preparation | Telangana PGECET Books: Enhance your preparation with the Best Books for TS PGECET 2022 Preparation. Considering the fact, that every exam prep needs the best resources for preparation. Well, to achieve that, you need to go through this article. This article is the best guide for the list of Best Books for TS PGECET 2022. As you read along, make sure that you are taking notes of the important books that are suitable for your preparation criteria. Additionally, it is also important to consider the level of preparation that is in at the moment. Accordingly, you can choose the books that fit your exam and subject level of difficulty. Follows long and do not miss out on any of the books for TS PGECET 2022 mentioned further.
TS PGECET 2022 Important Books
Plant Design And Economics (3rd Edition) – Max Peters, Klaus Timmerhaus, Ronald West
Fundamentals of Heat and Mass Transfer – G. K. Roy
Industrial Instrumentation and Process Control – William C Dunn
Process systems analysis and controls – Donald. R.Coughanowr
Engineering Thermodynamics – Cengel A Boles
Mass transfer operations – Robert.E.Treybal
Unit operations-I &II, Heat and Mass transfer – K.A.Gavhane
Telangana PGECET 2022 Preparation Books for Civil
Handbook of Civil Engineering – RPH Editorial Board
Civil Engineering (Conventional And Objective Type) Revised Edition Edition – J. K. Gupta R. S. Khurmi
TS PGECET preparation book for Civil Engineering – SS Gupta and SP Gupta
TS PGECET Pharmacy Books
Review of Pharmacy 10 Edition – Leela Prabhakar
B. Pharm (Bachelor of Pharmacy) Entrance Exam Guide: Entrance Examination (Popular Master Guide) – RPH Editorial Board
Mechanical Engineering Exam Preparation Books for TS PGECET 2022
Fluid Mechanics – Yunus A Cengel
Fluid Mechanics and Hydraulic Machines – Dr. R.K Bansal
Mechanical Engineering For Competitions – R.K. JAIN
Telangana PGECET EEE Books
Electrical Engineering- Practice Book For Ese, Gate & PSUs – ME Editorial Board
A Handbook For Electrical Engineering ME Editorial BoardPaperback
Architecture Books For TS PGECET
Popular Master Guide B.Arch Entrance Examination – R. Gupta's
The Architecture Reference + Specification Book – Julia McMorrough
TS PGECET 2022 Books for Chemical Engineering
Chemical Engineering Thermodynamics – J. M. Smith and H. C. Van Ness
Chemical Engineering – Coulson & Richardson's
Chemical Process Design – Alexandre C. Dimian, CostinSorinBildea
The Engineering of Chemical Reactions – L. D. Schmidt
Chemical Reaction Engineering – Octave Levenspiel
Chemical Process Calculations – K. Asokan
Outlines of Chemical – Technology – Charles E.Dryden
Telangana PGECET CSE Best Books
Handbook of Computer Science & IT – Surbhi Mitra
A Handbook For A Handbook For Computer Science/ It Engineering ME Editorial BoardPaperback
TS PGECET 2022 Books for ECE
Electronics & Communication Engineering Paperback – R.K. Rajput
Electronics Engineering – Practice Book For Ese, Gate & PSUs ME Editorial BoardPaperback
To conclude, Best Books for TS PGECET 2022 are well defined in this article. Follow Exams.Freshersnow.Com for more informative articles in one space conveniently provided.