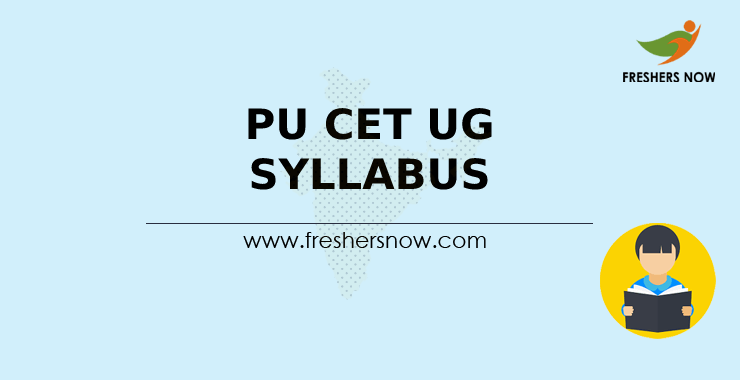 PU CET UG Syllabus 2022 PDF Download & Exam Pattern: Candidates once go through the PU CET UG 2022 Syllabus article which had a long list to prepare for the Panjab University CET 2022 Exam. From this article, you will find the Panjab University CET 2022 Exam Pattern in detail. Moreover, this total Syllabus and Exam Pattern are there in PU CET UG Syllabus 2022 PDF link as we have attached below. PU CET UG Exam will be conducted in Physics, Chemistry, Biology, and Mathematics Subjects. For Each subject, the time duration is 70 minutes. And the exam will be conducted for 120 marks for each subject.
For those who want to get an excellent score in the exam, please refer to each and every section, especially the Syllabus and Exam Pattern modules. So, all the candidates who have applied for the PU CET UG Exam can start preparing for the test now. If you have any other queries on PU CET UG Exam 2022, then you can visit the official site @ cetug.puchd.ac.in.
PU CET UG Syllabus 2022 – Overview
| | |
| --- | --- |
| Name Of The Organization | Panjab University, Chandigarh |
| Name Of The Exam | Punjab University Common Entrance Test (PU CET UG) |
| Mode Of Application | Online |
| Category | Entrance Exam Syllabus |
| Exam Conducted | For Admission to B.Sc. (Hons.) (Choice Based Credit System) and B. Pharmacy at Panjab University Campus |
| Official Website | cetug.puchd.ac.in |
PU CET UG Syllabus 2022
Who can't find the correct details of the PU CET UG Exam Syllabus 2022, then don't worry because we had provided PU CET UG 2022 Syllabus along with the Panjab University CET 2022 Exam Pattern. Majorly, the subjects for PU CET UG 2022 Exam are Mathematics, Biology, Chemistry, and Physics along with this, you will find subtopics for each subject which there in this article. To find the subtopics for each subject, once check this page for the PU CET UG Syllabus 2022 PDF link. The given PDF Format link contains all subtopics lists for each and every subject.
PU CET UG Exam Pattern 2022
The Panjab University CET 2022 Exam Pattern is somewhat different from other Exam Patterns. For physics paper, it will have 60 questions and the marks are 120 with a time duration of 70 minutes for the exam. In this way, every paper will contain the same number of questions, marks, and time duration. For your convenience, we had provided the detailed Exam Pattern for PU CET UG 2022. So, check the below-provided table and then proceed with preparation.
| | | | |
| --- | --- | --- | --- |
| Subjects | Questions | Marks | Time Duration |
| Physics | 60 | 120 | 70 Minutes |
| Chemistry | 60 | 120 | 70 Minutes |
| Biology | 60 | 120 | 70 Minutes |
| Mathematics | 60 | 120 | 70 Minutes |
PU CET UG 2022 Syllabus
Mathematics
Sets
Relations & Functions
Trigonometric Functions
Algebra
Principle of Mathematical Induction
Complex numbers & Quadratic Equations
Linear Inequalities
Permutations & Combinations
Binomial Theorem
Sequence & Series
Straight lines
Conic Sections
Introduction to Three- dimensional Geometry
Limits & Derivatives
Mathematical Reasoning
Statistics
Probability
Coordinate Geometry
Calculus
Vectors
Linear programming
Probability
Physics
Physical World and Measurement
Kinematics
Laws of Motion
Work, Energy, and Power
Oscillations and Waves
Electrostatic
Properties of Bulk Matter
Thermodynamics
Current Electricity
Magnetic effects of current and magnetism
The motion of System of Particles and Rigid Body Gravitation
The behavior of Perfect Gas and Kinetic Theory
Electromagnetic induction and alternating currents
Electromagnetic waves
Optics
Dual nature of matter and radiation
Atoms and nuclei
Electronic Devices
Communication Systems
Chemistry
Some Basic Concepts of Chemistry
Structure of Atom
Classification of Elements and Periodicity in Properties
Chemical Bonding and Molecular Structure
Hydrogen
S-Block Elements (Alkali and Alkaline Earth Metals)
Organic Chemistry- Some Basic Principles and Techniques
Status of Matter: Gases and Liquids
Thermodynamics
Equilibrium
Redox Reaction
Some p-Block Elements, General introduction to p-Block Elements
Hydrocarbons
Environmental Chemistry
Biology
Diversity in Living World
Structural Organization in animals & plants
Reproduction
Genetics and Evolution
Cell structure and functions
Plant physiology
Human anatomy and physiology
Biology and Human welfare
Biotechnology and its application
Ecology and its environment
PU CET UG Syllabus – Important Link
To Download PU CET UG Syllabus 2022 & Exam Pattern PDF
Click Here
Note: The above given PU CET UG Syllabus is only for reference purposes.
If you got all the details about PU CET UG Syllabus 2022 from this website, then please visit our site regularly to get more updates from Exams.FreshersNow.Com.