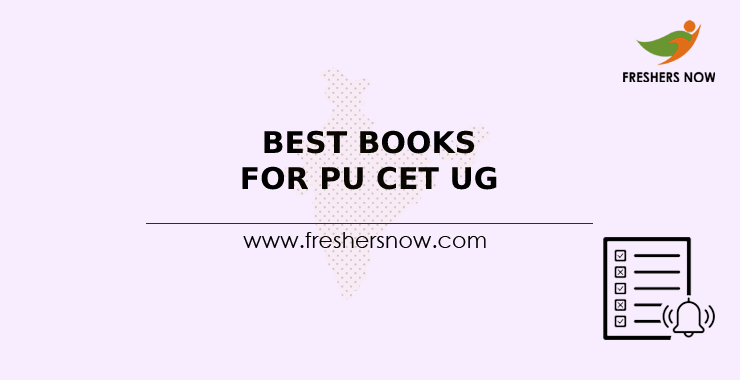 Best Books for PU CET UG 2022 Exam Preparation: Best Books for PU CET UG 2022 are what you will be guided with. Candidates who are looking out for Best Books for PU CET UG 2022 Exam Preparation read through this article. Ensure that you are following along so that you will not miss out on any of the information provided. Before you head over through the main sections of the article, it is very important to categorize and be aware of your preparation criteria. For any entrance exam, candidates need to habituate to pick out the books that are in accordance with the exam criteria. So, this article will surely be the best guide by providing you with all the relevant Books for PU CET UG 2022 Exam.
Best Books for PU CET UG 2022
There are many books for PU CET UG that can fit into your exam preparation. But candidates need to make sure that they are following through with key essentials before choosing the PU CET UG Books. Use the essential points mentioned below and further you can make an assessment over the choice of books that you are heading forward to implement.
Always check the publishing date.
Look out for renowned authors/writers.
Coss check with the PU CET UG Syllabus.
Check the contents of the book for better coverage of the concepts.
Look into the sample mock papers or test papers if provided.
Subject Wise PU CET UG Best Books
Now, we will have a brief overview of the quick list of books that you can consider for your preparation. These books will help you through in proceeding with a better understanding as well as let you understand the easy books that you need to prioritize. Follow through.
Physics
Concepts of Physics by HC Verma (Vol 1 & 2)
Physics by OP Agarwal (Vol 1 & 2)
Chemistry
Arihant Organic Chemistry
Textbook of Chemistry for Class 11th and 12th by NCERT
Mathematics
Mathematics by RD Sharma (Class 11 and 12)
Mathematics by SL Loni (Plane Geometry)
Learn, Practice & Test on India's Largest Education Platform – Embibe
PU CET UG Reference Books
Panjab CET 12 years solved papers
Quantitative Aptitude by Arun Sharma
Best Books for PU CET UG 2022
Here in this section of the article, you are going to get all the relevant list of books for Best Books for PU CET UG 2022. Check through the table below and pick out the books that fit your examination criteria.
| | | |
| --- | --- | --- |
| Subject Name | Book Name | Author/ Publication |
| Mathematics | SAT Math Level 1 (Barron's Sat Subject Test Math Level 1) | Ira K. Wolf |
| Biology | Examination Questions in Biology, Botany, Chemistry, Drawing, Geography, Physics, Zoology | College Entrance Examination Board |
| Physics | 29 Years Physics Chapter-wise Solutions for CBSE AIPMT & NEET | Arihant Experts |
| Chemistry | ISC Chapter-wise Solved Papers Chemistry class 12th | Arihant Experts |
Best Books for PU CET UG 2022 Exam
Here, in this section, you will be guided with the best Reference Books for PU CET 2022. Take the list and use the books in accordance with your preparation criteria and necessity. Additionally, it is very important for the candidates to be visual about the contexts that the books are carrying.
A Guide to Critical Legal Studies – Mark Kamen
Objective Physics by Mahesh Jain
A Textbook of Organic Chemistry for IITJEE by R.K Gupta
Mathematics – Plane Geometry SL Loni
Quantitative Aptitude Arun Sharma
To conclude, the article has guided you with all the relevant information regarding the Books for PU CET UG 2022 Exam. It is time for you to choose the right set of books and create a proper schedule for completing the books in reference to your preparation. Work through well. Do not forget to stay connected to Exams.Freshersnow.Com for informative articles.