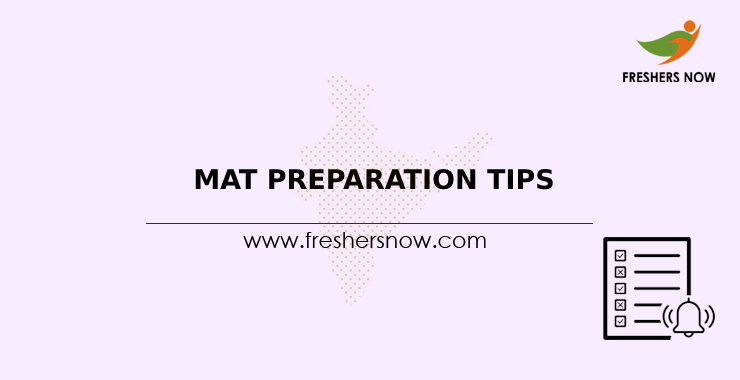 MAT 2022 Preparation Tips | MAT Preparation Strategy, Study Plan: Here they are MAT 2022 Preparation Tips. include this MAT 2022 Preparation strategy and tricks. If you are a candidate who is looking forward to succeeding. Thinking to crack MAT 2022. Here's a chance to win that MAT race. Read this article thoroughly and eventually, you will be able to understand the potential parameters to prepare for MAT. the article that you are about to read consists of different sections to prepare. So, follow along properly and do not miss any section of the video.
MAT 2022 Preparation Tips | MAT Preparation Strategy, Study Plan
| | |
| --- | --- |
| Organization Name | All India Management Association (AIMA) |
| Exam Name | MAT 2022 (Management Aptitude Test) |
| Category | Preparation Tips |
| Admissions to | UG, PG Courses |
| Official Website | mat.aima.in |
MAT 2022 Exam Pattern
| | |
| --- | --- |
| Test Pattern | Multiple Choice Questions |
| Mode of the Exam | It can be either Computer Bases Test and Pen-Based Test. |
| Language | English |
| Exam Duration | 150 minutes |
| Marking Scheme | 1 Mark will be given for each correct answer |
| Negative Marking | 0.25 Marks will be deducted for each wrong answer |
| Number of Questions | 200 Questions |
| Total No.of Sections | 5 Sections |
The below table represents the number of questions and the time duration for each section.
| | | |
| --- | --- | --- |
| Section Name | Number of Questions | Marks |
| Language Comprehension | 40 Questions | 40 Marks |
| Mathematical Skills | 40 Questions | 40 Marks |
| Data Analysis & Sufficiency | 40 Questions | 40 Marks |
| Intelligence & Critical Reasoning | 40 Questions | 40 Marks |
| Indian & Global Environment | 40 Questions | 40 Marks |
| Total | 200 Questions | 200 Marks |
The MAT test covers 5 topics as Data Analysis and Sufficiency, Indian and Global Environment, Language Comprehension, Intelligence, and Critical Reasoning, Mathematical Skills.
The questions are given in the Objective Type/ Multiple Choice Questions.
Each section carries 40 questions.
Each question has one mark.
Therefore, a total of 200 questions for 200 marks.
The time limit for the MAT Exam is 2 hrs 30 minutes means 150 minutes.
There is a penalty for the Wrong Answer.
1/4th mark will be deducted for the Wrong Answer.
Subject Wise AIMA MAT 2022 Preparation Strategy
Considering MAT Preparation Strategy will help you ace your preparation for MAT. follow along this section of the article for all the detailed MAT Preparation Strategy.
MAT Tips To Prepare For Language Comprehension
Firstly, improvise reading Skills. Ensure that you focus on improving reading on time frames. Cultivate Reading books, academic journals, and magazines to improve reading speed. Additionally, practice a number of sample papers to improve the speed of solving capacity in the Reading Comprehension.
Secondly, practice more Grammar. Consequently, the Majority of the English grammar questions are on vocabulary, verbs, active and passive voice, etc. However, working on the punctuation and sentence construction. Improve your hold on the fundamental of English grammar.
Thirdly, be proficient in Verbal Ability. Start practicing sample questions. This section requires more practice especially on the pattern of questions as well the methodologies that are adaptable for you to solve the questions.
AIMA MAT 2022 Preparation Tips For Maths
To begin with, Fundamentals and Theorems are what you need to be working on. Cracking the Numerical Ability section is all about having a good command of concepts and theorems whilst implementing them with the methodological flow. Subsequently, prepare notes on formulae and fundamentals, which will definitely help you to understand the way of answering.
Next, is the Calculation part. You have to try Mental Math to speed up calculation. Considering the topics like Profit and Loss, Mean, Median, Number System, Mensuration, Time, Distance, Speed and Percentages are considered to be easy to solve. So you need to acquire speed in calculations.
MAT Tips To Prepare For Data Analysis and Sufficiency
In terms of Understanding Charts, Graphs, and Tables: Before attempting the questions. You should have a basic understanding of data representation. Whilst understanding the pattern of the data, it will be easy for you to sort out the solution as well. The key is to break down the question into parts and then analyze the data in the first place..
Conversely, to consider Data Analysis and Sufficiency section should not be confused. As the sectioning s going to be quite similar to that of the language sections. Be clear enough to understand and analyze the pattern of questions that you are answering. Always, analyze the data, then interpret it, and later choose the right answer.
AIMA MAT Tips To Prepare For Intelligence and Critical Reasoning
Factually, logic and opinion candidates should be able to understand the verification of statements with reasons and opinion/ intellect. Consequently, try to implement methods to solve questions quickly, for instance for a simpler view – Identifying Blood Relations should be as under Relatives of mother – maternal family, Relatives of father – paternal family
On the other hand, Critical thinking is all about- how you analyze the question, contradictory statements, and conclusion. Alongside, candidates need to keep speed and accuracy whilst solving questions. Accelerate speed and accuracy, as you practice a variety of Intelligence and Critical Reasoning sample questions on a regular basis.
MAT Preparation Indian and Global Environment
Be well focused in this section. MAT Preparation Indian and Global Environment require regular based working. It demands quick memorizing as well as understanding the latest evolutions that are taking place around. Consider these major topics- Current Affairs and Events at national as well as international events, Awards, film festivals and celebrities, Political events and affairs, Science, technology, and research.
MAT 2022 Preparation Tips
Here is a quick set of MAT 2022 Preparation Tips that you need to have whilst preparing for MAT 2022.
Always have a study timetable.
Cultivate a study routine.
Have revision slots on daily basis.
Have solved sample papers handy.
Take timely breaks and include a refreshing activity.
MAT Study Material
MAT Previous Question Papers – Important Link
To Download AIMA MAT Previous Paper PDF
Click Here
Here you go, all the MAT 2022 Preparation Tips on one page. Hope you have taken note of the MAT 2022 Preparation Strategy. Good luck with your exam. Stay connected for more informative articles at Exams.Freshersnow.Com.