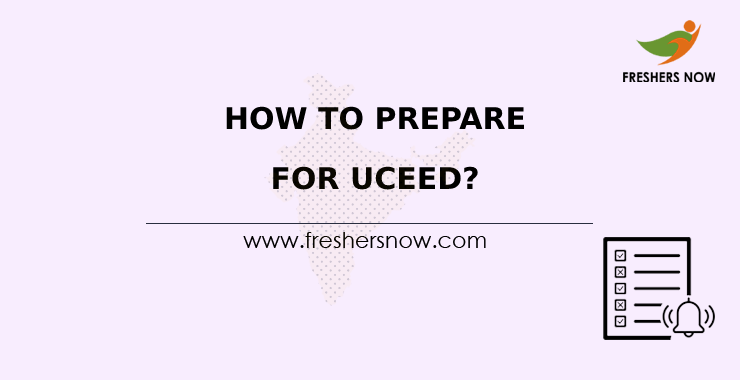 How To Prepare for UCEED 2022? Preparation Tips & Strategies: Heads up! leave your thoughts on How To Prepare for UCEED 2022? Here are the realistic Preparation Tips & Strategies for UCEED. Do not miss any section of the article. As every component is going to be helpful in your preparation. The exam primarily tests your Visualisation and Spatial Ability, Social Awareness, Observation and Design, Logical Reasoning, Design Thinking, etc. So be well aware of the resources that you are implementing in your practice.
How To Prepare for UCEED 2022? Preparation Tips & Strategies
| | |
| --- | --- |
| Organization Name | Indian Institute Of Technology Bombay (IIT) |
| Exam Name | Undergraduate Common Entrance Exam for Design (UCEED) |
| Category | Preparation Tips |
| Admissions Into | Admissions to the Bachelor of Design (BDes) programs at IIT Bombay, IIT Delhi, IIT Guwahati, IIT Hyderabad, and IIITDM Jabalpur |
| Official Website | www.uceed.iitb.ac.in |
Step Wise UCEED Preparation Plan
This section of the article will certainly boost you. We are going to know Step-wise UCEED Preparation Plan. Planning is imperative for a productive outcome.
The step-wise UCEED 2022 preparation tips are mentioned below.
Step 1: Gain in-depth knowledge of the syllabus.
Step 2: Understand the examination pattern and marking criteria.
Step 3: Know repeated topics to focus on.
Step 4: Collect effective resources/ study materials.
Step 5: Make monthly, weekly goals.
How to Prepare For UCEED 2022?
Clear your worry about How to Prepare for UCEED 2022? Follow the key points which speak about the preparation strategies for UCEED 2022.
Firstly, we begin with planning.
Topics you want to cover in a short period of time.
Cultivate a planning schedule even for the revision.
Secondly, habituate Free Sketching.
There are a few restrictions on the use of equipment in UCEED.
Start practising free sketching with basic equipment. For instance 2 grades pencils.
Thirdly, understand 'Comic Strips'.
Comic strips are available online or in the newspaper.
You will develop your understanding of the format/patterns/trends.
Additionally the art of storytelling through drawings.
Fourth, but foremost is managing your time.
Time Management will help to evaluate your accuracy.
Understand the parameters of practice.
In addition, Prioritize the prominent things and ace them to score well in the exam.
Fifth, Acing Mathematical Geometry.
You should be able to solve with shortcuts.
You should be well aware of the formulae, tricks and other methods.
General Preparation Tips & Strategies For UCEED 2022
Sixth, you should progressively work on Your Speed.
It is important to solve practice tests on a regular basis.
Consequently, Follow a timer while practising.
Seventh, Solve Sample Papers/ previous papers.
Solve as many sample papers, previous year's,
Mock tests as many as possible.
In addition, Evaluate your performance through every test. Further, it will help you in identifying, rectifying the weak areas.
Eight, this is all about enhancement, Visualization and acing Observation Skills.
Must try to think out of the box.
Do practical exercises to enhance your creativity.
Additionally, work on artistic skills.
Ninth, General Knowlege in action.
Set time for reading newspapers, academic journals, articles etc.
Study the work and thought process of your favourite designers.
improvise your General Understanding and Knowledge.
Tenth, Jot Down the Important Points.
Keep making notes.
Write down the important points complexity wise.
Consequently, Revisit your handy notes at the time of revision as it saves a lot of time.
Finally, Revision to the fullest. Do not drain yourself in taking in more information.
Revise a lot and work on the weak areas.
How To Make UCEED 2022 Preparation Plan?
Are you wondering How to Make UCEED 2022 Preparation Plan? The list below will answer you with all the key plans to implement.
Check the important topics.
Go through the marking scheme.
Explore, research, and buy the best books of UCEED 2022.
Prepare a daily, weekly, or monthly timetable.
Put your preparation to the test.
Evaluate your revision performance.
General Tips For UCEED 2022 Preparation
We have arrived at the end. This section will give all the details regarding General Tips for UCEED 2022 Preparation in short.
Understand the UCEED exam pattern and syllabus.
start your preparation for UCEED 2022 well in advance.
have a good understanding of elements and basic principles of design.
read newspapers, books, research to improve your vocabulary and GK.
brush up fundamental topics.
familiarise with famous designers and iconic products.
study plan as per the availability of time.
know the type of questions to expect in the UCEED 2022 exam.
Make honest assessments.
Always have a handy note.
For more informative articles stay connected with us at Exams.Freshersnow.Com. Bookmark our site using Ctrl + D to get all the latest news.