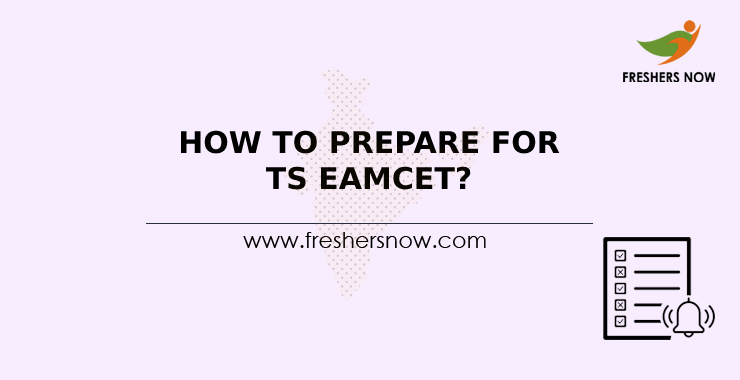 How To Prepare For TS EAMCET 2022? Preparation Tips & Strategy: Looking for preparation tips for TS EAMCET 2022? Well, here you are. Landed in the right place. This state-level examination is not complex yet you need to have realistic preparation strategies to crack TS EAMCET 2022. So, leave your thought on How to prepare for TS EAMCET 2022? And read along.
TS EAMCET Preparation
Telangana State Engineering Agriculture and Medical Common Entrance Test (TS EAMCET) facilitate admissions into educational programs. In order to ace this test, follow the guiding tools as provided in this article.
To mark upon, Making a TS EAMCET Preparation plan will certainly assist you in qualifying for this examination. Additionally, we are providing subject-wise prep as well. Do not miss any section of the article. Let us begin.
How To Prepare for TS EAMCET 2022?
After reading this section you will no longer have the worry about – How to prepare for TS EAMCET 2022?. Take notes as you read along.
Firstly, Revise the important topics.
Chapters like Atomic Structure, Electromagnetics, Coordinate Geometry, Inorganic Chemistry, etc. These are considered to be important from the exam's perspective. Therefore, it is essential to revise all those concepts.
Secondly, Practice the chapters that need to be mastered.
TS EAMCET has the complexity of questions. So, master the topics which you think are hard to memorize. In addition, consider the repeated questions as well.
Thirdly, Take mock tests and make assessments.
It is important to solve ample TS EAMCET practice questions with increasing difficulty levels. Eventually, you will be able to understand the corresponding chapter. Along with this, making assessments will help you understand the areas that need more practice.
Fourth, Practice formulas, reactions, and important equations.
Memorize all the important figures, data, formulas, equations, reactions, etc. quickly and efficiently. Adapt solving through shortcuts. It will save your time eventually.
Section Wise TS EAMCET 2022 Preparation Tips
Still wondering how to begin your prep. Well, this section is giving you detailed preparation strategies subject-wise.
TS EAMCET Preparation Tips for Physics
Physics, a subject revolving around Laws, Units, and Theories. To excel in the subject, refer to our TS EAMCET preparation tips, and you will eventually reach the target.
Firstly, make a study routine and allocate your time to Physics.
Secondly, understanding the concepts and theories through videos/books.
Thirdly, make short notes. Note down the important points on critical topics.
Fourth, Never practice at your own comfort. Try to solve tough questions.
Fifth, Give priority to topics that carry high weightage in the paper.
Note:- Avoid referring to several books for the preparation. Follow the best books and avoid jumbling.
TS EAMCET Preparation Tips for Chemistry
Chemistry, all about atoms and equations. Focus on the equation sums as well as Chemicals and Solutions. TS EAMCET preparation tips for Chemistry will help you prepare in the most effective way.
Firstly, Be clear with the chapters, subtopics, and theories.
Secondly, prepare notes of all the formulas, laws, reactions, etc.
Thirdly, Practice from the NCERT Chemistry book for foundational preparation.
Fourth, Have transparency with the basics.
Fifth, Going through the samples will assist you in better understanding.
Note:- Instead of memorizing the reactions, try to perceive them.
TS EAMCET Preparation Tips for Mathematics
Mathematics should be given diligent practice. Follow the TS EAMCET Preparation Tips for Mathematics to score high.
Firstly, Practice every level of questions.
Secondly, Do not always opt for shortcuts.
Thirdly, Stick a list of formulas at your convenience.
Fourth, Take the help of NCERT Mathematics.
Fifth, Solve the previous year's question papers.
Note:- Understand the frequency and pattern of questions and topics.
Important Tips for TS EAMCET 2022
Tips for Preparing for TS EAMCET 2022 are quite essential to consider. These handy important tips for TS EAMCET 2022 will ensure you qualify for the exam.
Solve previous papers of at least the past 6 – 7 years.
Take mock tests and make assessments.
Focus the most on the complex subjects
Improvise your speed.
Revision is essential.
Stepwise TS EAMCET 2022 Preparation Tips
This section of the article is for all the candidates who are in search of Stepwise TS EAMCET 2022 Preparation Tips
A. Plan a study timetable
Manage time effectively.
Complete the syllabus on time.
Maintain a strict routine on a daily basis.
Consistency is most important.
Divide sections as per the time slots.
B. Start with the basics
Understand the basics of each topic.
Know the principles behind questions asked.
Study on a daily basis.
Understand the foundational viewpoints.
Gather strong resources.
C. Practice sample papers
Know the weightage of topics.
Find out your weak areas.
Understand the pattern of questions.
Know the repeated questions.
Scheme of the subtopics.
D. Revision is compulsory
Revision on a daily basis.
Make short notes during preparation.
Assessments on revision.
Revision of weekly targets is essential.
Plan your revision schedules.
Avoid adding new topics at the last minute of preparation
Creates chaos and further confusion.
Dedicate the time in revising the units, topics
Determination is essential for consistency.
Work on the topics that need improvement.
Grow progressively.
Note:- Include Stress Busters
walk in your garden
watch your favourite movie
Play your sports.
Include meditation.
Be calm, confident, and focused.
General Tips for TS EAMCET 2022
Regular practice.
Revision assessments.
Timely breaks.
Productive activities.
Adequate resources.
Stay connected with us at Exams.Freshersnow.Com for more details about the How To Prepare For TS EAMCET 2022. Bookmark our site using Ctrl + D to get all the latest news and notifications.