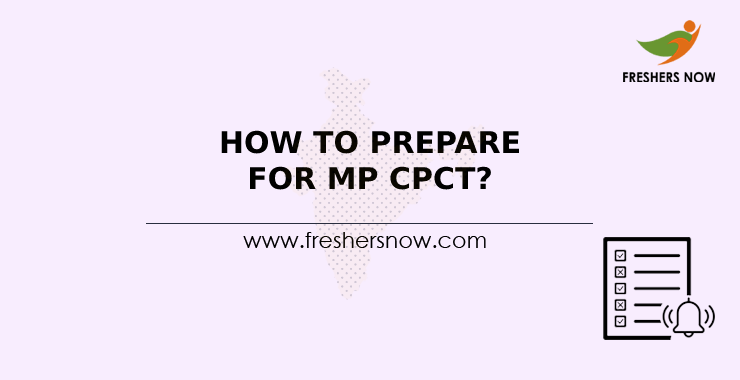 How To Prepare For MP CPCT 2022? Might be a little hurdle but not complex if you have the right set of MP CPCT 2022 Preparation Tips Hence, candidates are advised to grab all the relevant tips for MP CPCT 2022 so that they can have thorough and convenient preparation. Although this is a state-level test. Candidates should preferably choose to implement the right MP CPCT 2022 Tips to achieve the target goal.
How To Prepare For MP CPCT 2022? Preparation Tips, Study Guide
| | |
| --- | --- |
| Organization Name | Madhya Pradesh Agency for Promotion of Information Technology (MAP_IT) |
| Exam Name | Computer Proficiency Certification Test (CPCT) |
| Category | Preparation Tips |
| Location | Madhya Pradesh |
| Official Website | cpct.mp.gov.in |
Madhya Pradesh CPCT Preparation Tips
To give a quick overview, Computer Proficiency Certification Test (CPCT) is a progressive initiative that is taken by the Government of Madhya Pradesh (MP). This is to certify the computer proficiency of candidates. The scores from the test shall be referred to recruitment for various positions in State Government/ Agencies. Especially in organizations where a working knowledge of computers and typing skills are mandatory.
MP CPCT 2022 Test Pattern
Section

MCQ (Multi Choice Question)
Typing Skill Assessment – English Typing Test, Hindi Typing test

Type of Questions
Multiple Choice Questions (MCQ)
Time Duration

The Test shall be of two hours (120 Minutes) duration distributed as under
75 minutes for 75 Questions in Sections 1 – 6
15 Minutes for the English typing test
15 Minutes for the Hindi typing test and 10 Minutes Mock Test for Hindi Typing Test to understand
15 Minutes for reading instructions and switchover between languages in typing tests
Specifications
All Multiple Choice Questions (MCQ) shall have 4 (four) options with one (1) correct option.
All MCQ questions shall be available in English and Hindi.
Reading Comprehension (RC) shall comprise one (1) passage with 5 MCQ questions.
Typing test content will be a passage with possible keystrokes.
Subject Wise MP CPCT 2022 Preparation Tips
This section of the article will guide you through MP CPCT 2022 Preparation Tips. candidates note all the relevant tips that you can apply in your preparation. Here are your takeaways. Grab what is relevant to your preparation criteria and thus you will surely be able to succeed.
Computer Proficiency
To begin with, in the MP CPCT Computer Proficiency section candidates should be well aware of the basic fundamentals and the use of computers. Additionally, they should also be working on the following parameters-
Knowing the abbreviations and their working features.
Working on the core advancements that the computer world has been taking place.
Here are some of the concepts that you can have to cross-check or as a checklist whilst preparing for this section-
Components of Computer System
Network Security
Concept of Hardware and Peripherals
Basics of Operating System
Word Processing Basics
Elements of Electronic Spread Sheet
MS-Office suite and related office automation tools/ programs
Basics of Computer Networks
Internet Access and Service on the Internet
Web Browsing Software & Search Engines
Basics of E-mail and using E-mails
Reading Comprehension
Secondly, MP CPCT Reading Comprehension. Candidates have to brush their language ability. They should b able to step up with the vocabulary and the meanings of the words. So that they will be able to understand the sentence structures. Here are a few things to remember-
Candidates should have the ability to read and understand passages and this can be developed whilst practising the meanings and the sentence arrangements.
They should also be able to work on locating information, Identifying relationships between the lines and the passages.
Additionally, the effort would be placed in interpreting ideas, moods, Characteristics of characters, Tone of passage and getting the central theme and reframing the passage with quick skimming of the passage.
Quantitative Aptitude
Thirdly, the MP CPCT Quantitative Aptitude section wholly works on the quick solving methodologies as well as understanding the question patterns. There are a few things to remember whilst preparing for this section-
Working on the Properties and Manipulation of Numbers would definitely help through the pattern of the question asked.
Should be able to understand the relationship between Quantities Shapes and their measurement. This will be able to work through the capabilities of answering.
Additionally, work on these relevant topics that will eventually be helpful in creating a quick understanding of the section-
Numbers
LCM and HCF
Work and Wages
Pipes and Cisterns
Time Speed Distance
Trains, Boats, and Streams
Percentage
Ratio, Proportion, and Partnership
General Mental Ability And Reasoning
Fourth, MP CPCT General Mental Ability And Reasoning section wholly determines the solving pedagogy of the candidate. Mental ability topics are considered to be amongst the most common aptitude skills tested. Here are a few essentials that you need to know-
Questions need the answering pattern that requires logic and interpretation skills.
Try to apply various approaches to different types of questions. This way you will be able to solve questions easily.
Some of the topics that you need to majorly consider for preparation are-
Verbal and Non-Verbal Reasoning
Data Interpretation
Puzzles
Analogy
Blood Relations
Classification
Coding and Decoding
Data Sufficiency
Direction
Logical Sequence of Words
Logical Venn Diagram
Number Series
General Awareness
Fifth is the MP CPCT General Awareness section. This section demands regular memorization of the topics as well as knowing the updates that are happening across the globe. Some of the key things to implement are-
Gathering information in a sequence manner and then aligning for preparation.
Work on sequential kinds of topics so that it will be easy for understanding and link through the concepts.
Check the mentioned list of topics for GK-
Indian History & Indian Geography
Indian Economy
Constitution of India
Science & Technology
Current Affairs
Typing
Finally, the second component is MP CPCT Typing. This needs a ton of practice to ace this section. Additionally, there are a few things to remember whilst preparing or practising typing. In order to prepare for the typing section. Candidates need to follow these-
Regular practice of typing.
Picking sets of [aragrpahs to type.
Use the correct starting position to type the text.
Set timer-based typing.
Work on memorization of the placement of the keys on the keyboard.
MP CPCT Preparation Guide
MP CPCT Previous Question Papers Download Link
MP CPCT Previous Question Papers – Important Link
To Download MP CPCT Previous Question Papers PDF
Click Here
To conclude all the relevant MP CPCT 2022 Preparation Tips are mentioned clearly in this article. Aspirants need to implement the mentioned tips in accordance with their preparation criteria. So that it will be easy to follow and helps them to stay productive in their practice. Candidates ace their preparation and do well in the exam. Also, for more preparation-related articles follow Exams.Freshersnow.Com.