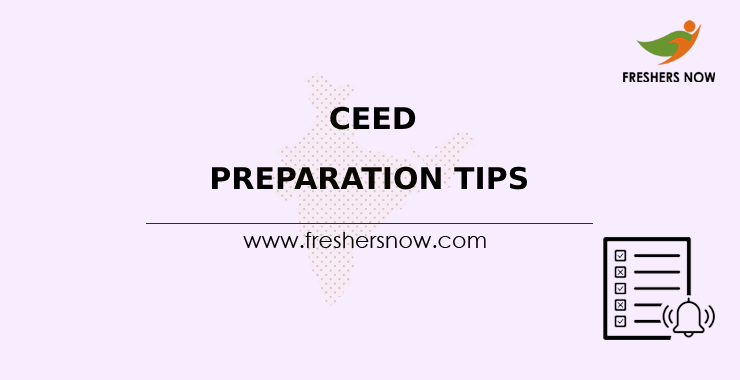 CEED 2022 Preparation Tips | CEED Exam Preparation Strategy, Study Plan: Willing to start CEED Preparation? Are you a candidate, worrying about how to prepare for the CEED exam? Well, you have hopped on to the right place. CEED Preparation Tips article helps the candidates in understanding Tips to Crack IIT CEED. As it is a high-level exam, you need to invest your time in preparation and practice respectively.
How To Prepare For CEED Exam 2022?
How To prepare for the CEED Exam? is the first and foremost doubt that the majority of the candidates undergo. Getting admission to reputed colleges needs a lot of effort and the right CEED preparation strategies. As the syllabus involves a wide range of topics, candidates need to balance their time in preparing CEED exam.
The CEED exam is designed to test the general aptitude and creativity of the candidates. Hence, candidates need to work out of the box and focus on enhancing their drawing skills and visualization skills. To ace the National level design exam, candidates need to have a perfect preparation strategy.
CEED 2022 Preparation Tips
CEED 2022 Preparation Tips
Organization Name
Indian Institute of Technology, Bombay (IITB)
Exam Name
Common Entrance Exam for Design (CEED)
Category
Preparation Tips
Admissions Into
M.Des, Ph.D. Programs
Official Website
ceed.iitb.ac.in
Step-wise CEED Preparation Plan
For candidates who want step want step-wise to detailed guidance for CEED prep, here is the stepwise CEED preparation plan.
Steps to prepare for the CEED exam are as follows-
Follow the exam pattern and marking scheme.
Thoroughly with the syllabus prescribed.
Make a study timetable.
Practice mock tests and previous years' papers.
Make accountable assessments.
Tips To Crack IIT CEED
Are you confused about preparing CEED exam? Want to know Tips to Crack CEED? Candidates who are aiming to crack the CEED exam take a not of the key points given below. These will be helpful to you in the long run when you implement them daily.
Knowledge of exam patterns and syllabus will help you to understand.
Understand the mark scheme
Collect best the books and study materials.
Refer question papers, sample papers and, mock tests.
Check through your resources.
CEED Preparation Tips and Tricks
Valuable suggestion lies in the preparation stage for the CEED exam. Do not miss any of the preparation tips and tricks that are suggested below-
Enhance your creativity.
Enhance 3D drawing skills
Boost your creativity thinking
Time management.
Read daily cartoon strips.
How To Prepare For CEED Exam in 30 days?
How to Prepare for the CEED exam in 30 days? is this what you are wondering about? Are you having doubts about clearing the CEED essential exam in 30 days? Yes, it is possible with certain prep strategies for CEED. Now, pick your notes and start noting down these essential points to rack the CEED exam.
Be a problem generator and a solver.
Check out the entire syllabus.
Follow your favorite designer or creator.
Do not waste your time reading many books.
Improvise imagination skills.
Increase your speed and accuracy.
At least before ten days, give a quick revision.
Try free-hand sketches.
Analyze your practice sessions
Practice sketching objects around you.
CEED Preparation Strategies
Apart from mentioning the above information, here are CEED preparation strategies to guide you and to crack the CEED exam.
In CEED part- A- Need to have a general knowledge about different aspects of Design.
In CEED part – B, focus on drawing, rending, and visualization skills.
Note: While preparing for the CEED exam, think out of the box and be creative.
Exams.Freshersnow.Com CEED exam preparation article has guided you with an effective list of preparation tips and strategies. Invest your time and work hard. We believe, this article is helpful to equip valuable information for the CEED exam. For further informative articles stay connected with our website Exams.Freshersnow.Com.