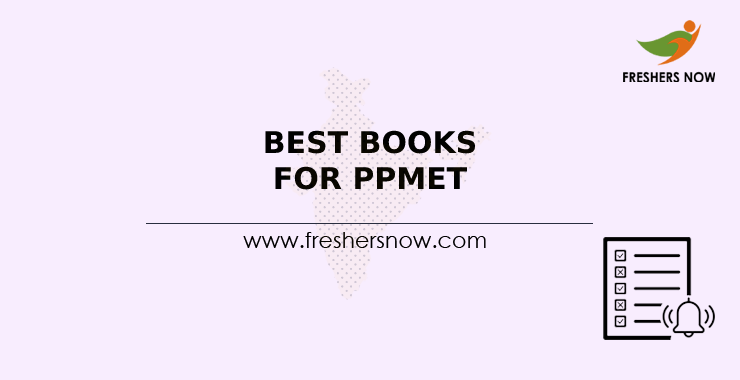 Best Books for PPMET 2022 Exam Preparation is rightly presented in this article. Candidates who are preparing for this exam and willing to crack PPMET 2022 Exam right away in the first go. Then, you should have all the relevant and right set of books for PPMET 2022. So, in order to succeed Punjab Para Medical Entrance Test 2022 students should be well equipped with a basic set of books that are relevant from their previous education. Apart from this, there are some of the recommended books for PPMET 2022. Aspirants check the table mentioned to grab the best PPMET 2022 books that are accurately presented to succeed with the exam preparation.
Best Books for PPMET 2022 Exam Preparation
| | | |
| --- | --- | --- |
| Subject Name | Book Name | Author/ Publication |
| Nursing | Complete Companion for B.Sc Nursing | Saroj Parwez |
| English | Objective General English | S.P. Bakshi |
| Nursing | The Pearson Guide to the B.Sc. ( Nursing ) Entrance Examination, Third Edition |  Parwez Saroj |
| Nursing | General Nursing and Midwifery Entrance Examination | Arhant Experts |
| English | High School English Grammar and Composition Book | Wren and Martin |
Reference Books for PPMET 2022
This section of the article will guide you through all the relevant Reference Books for PPMET 2022. Candidates are advised to make use of these books that will surely be going to help you to level up your preparation. Through this list of books for PPMET 2022, you can actually have a quick checklist for your exam preparation. Also, students should make sure that is having track of their choice of books and their usage.
LP Golden Excel by Dr. J.K. Juneja, S. Jawa, Dr. J. P. Sharma
Edusys Advanced Explorer
NCERT Physics 11th and 12th
NCERT Chemistry 11th and 12th
Concepts of Physics – Volume 1 and Volume 2 by H.C. Verma
Entrance Chemistry by Bhakta
Kiran Publication Competitive General English
Word Power Made Easy by Norman Lewis
Objective General English by Hari Mohan Prasad
Practice problems in Physics for Engineering Examinations by S.Mishra
Textbook of Chemistry for Class 11th and 12th by NCERT
NEET Question Bank by Disha Publication
NCERT Biology 11th and 12th
Universal Self-Scorer Biology by Universal Book Depot
Oswaal 10 Mock test Papers by Oswaal Books
To conclude, the article has directed you to all the Best Books for PPMET 2022 Exam Preparation. Candidates have to ace up their preparation for PPMET 2022 Exam. Implement the mentioned books in your preparation. However, you should also be noting that books need to be chosen in accordance with your preparation criteria. So, to get more information like this make sure that you tune into Exams.Freshersnow.Com.