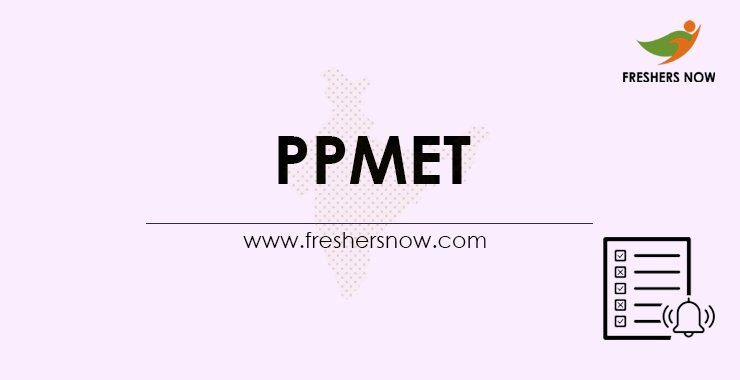 PPMET 2021 @bfuhs.ac.in | BFUHS PPMET Result (Released), Application Form, Exam Date, Eligibility: The admission committee of Baba Farid University of Health Sciences (BFUHS), Faridkot released the PPMET 2021 Admission Notice. Hence, all the candidates who are desired to pursue B.Sc. Nursing courses in the various Nursing colleges of Punjab affiliated to BFUHS can apply now. However in the beneath section, for the sake of candidates we have attached a PPMET 2021 Application Form link and the link is active now as officials started the Registration Process for the Punjab Para Medical Entrance Test (PPMET). And the PPMET is scheduled for 24th October 2021. So candidates get stuck to this page to know the link activity status and go with the rest of the page for more essential details.
New Update: PPMET 2021 Result is Released. So, check the same information here.
PPMET 2021 – Overview
| | |
| --- | --- |
| Authority Name | Baba Farid University of Health Sciences (BFUHS), Faridkot |
| Course Name | B.Sc. Nursing course in the various Nursing colleges of Punjab affiliated to BFUHS |
| Name of Exam  | Punjab Para Medical Entrance Test (PPMET) 2021 |
| Application Release Date | Started |
| Application Last Date | 18th October 2021 |
| Category | Nursing Entrance Exams |
| Exam Date | 24th October 2021 |
| Application Mode | Online |
| Official Site | bfuhs.ac.in |
★ You Can Also Check ★
PPMET 2021 Important Dates
| | |
| --- | --- |
| Events | Dates |
| Starting of the online registration process | Started |
| Last date to apply | 18th October 2021 |
| Availability of Admit Card | Released |
| PPMET 2021 | 24th October 2021 |
| Announcement of Result | Announced |
| Starting of Counselling | To Be Announced |
BFUHS PPMET 2021 Eligibility Criteria
The candidate must be completed at the age of 17 years on or before December 31 of the corresponding year.
The candidate has also taken up Mathematics along with Physics Chemistry, Biology and English then the marks obtained in Mathematics shall not be considered for admission to B Sc. Nursing Course.
Candidate should have passed in the subjects of PCB and English individually and must have obtained a minimum of 45% marks (for SC/ST 40%) taken together in PCB at the qualifying examination i.e. 10+2.
PPMET 2021 Application Fee
The PPMET 2021 Application Fee is Rs. 3540/- (1770/- for SC only) plus GST as per rules. The PPMET 2021 Application Fee can be remitted to the University account through the payment gateway available on the university website. The fee shall not be accepted in any other mode. The candidates who will not deposit the requisite Application Fee will not be considered for PPMET-2021/admissions. Application Fee once deposited in the University account shall not be Refunded/Adjusted in any case.
How To Apply For PPMET 2021?
Take a step to the official portal of Baba Farid University of Health Sciences (BFUHS), Faridkot @ bfuhs.ac.in.
On the home page, go to Admissions Section then click on the B.Sc courses.
A new page will be opened with various notifications.
Now click on the online Application Form link.
Complete the Registration Process by entering the basic details.
Login to the PPMET Online Application Form and then enter the educational and personal details on it.
Upload the required documents as per the respective size.
Pay the prescribed Application Fee.
Hit on the Submit button.
PPMET 2021 -Important Link
To Apply For PPMET 2021
Click Here 
PPMET 2021 Exam Pattern
The Test shall have one paper consisting of questions in Physics, Chemistry, and Biology
(Botany and Zoology).
The duration of the test will be three hours.
There will be 200 Multiple Choice Questions (50 each of Physics, Chemistry, Botany and
Zoology).
 Each question will carry four marks, thus the total marks will be 800.
The candidate will be required to find out the correct
answer and mark it on the Optical Mark Reader (OMR) Response Sheet by darkening the
corresponding oval against the serial number of the question with BLACK FINE TIP BALL PEN only provided by the university at the time of test.
There will be no negative marking.
| | | |
| --- | --- | --- |
| Subject Names | Maximum Questions | Maximum Marks |
| Physics | 50 | 200 |
| Chemistry | 50 | 200 |
| Botany | 50 | 200 |
| Zoology | 50 | 200 |
| Total | 200 Questions | 800 Marks |
PPMET 2021 Syllabus
Candidates who are going to take part in the PPMET 2021 are looking for the PPMET Syllabus 2021. So, candidates, we have gathered and provided the PPMET Syllabus 2021 Topics as follows. To get the chapter-wise detail PPMET Syllabus Concepts candidates can make a move to the official site.
Physics
Physical World and Measurement Physics
Kinematics Frame of reference.
Laws of Motion
Work, Energy, and Power
Motion of System
Magnetic Effects of Current and Magnetism
Electromagnetic Induction
Electromagnetic Waves
Gravitation
Properties of Bulk
Thermodynamics
The behavior of Perfect Gas and Kinetic Theory
Oscillations and Waves
Electrostatics
Current Electricity
Optics
Dual Nature of Matter and Radiation
Atoms & Nuclei
Communication Systems
Chemistry
Some Basic Concepts of Chemistry
Structure of Atom
Classification of Elements and Periodicity in Properties
Chemical Bonding and Molecular Structure
States of Matter: Gases and Liquids
Solid State
General Principles and Processes of Isolation of Elements
Hydrogen
S Block Elements
Some p-Block Elements
p-Block Element Group
d and f Block Elements
Coordination Compounds
Organic Chemistry
Hydrocarbons
Haloalkanes and Haloarenes
Alcohols, Phenols, and Ethers
Solutions
Thermodynamics
Equilibrium
Chemical Kinetics
Redox Reactions
Electrochemistry
Surface Chemistry
Aldehydes, Ketones, and Carboxylic Acids, etc.,
Botany & Zoology
Diversity in Living
Ecology and environment
Cell Structure and Function
Plant Physiology
Human Physiology
Reproduction
Genetics and Evolution
Structural Organization in Animals and Plants
Biology and Human Welfare
Biotechnology and its applications
PPMET 2021 Admit Card
PPMET 2021 Admit Card is issued against those Registration Id's, against which the Registration Id Application Fee has been remitted within stipulated date and time. The candidate has to download the PPMET Admit Card 2021 as per schedule for appearing
in the Exam from the website of the University. The date, time, and venue of PPMET will be mentioned in the Admit Card. PPMET Hall Ticket 2021 will not be sent by post. It is the duty of the candidate to download the Admit Card by own from the University website. The candidate will not be allowed to sit in the examination without Hall Ticket.
Download PPMET 2021 Admit Card Here
PPMET 2021 Result
After evaluation of Question Booklets, the Result shall be declared Rank-wise, Roll No. wise, and category-wise. The Ranking shall be made based on the Result of candidates in PPMET-2021. This Ranking will be drawn to give an approximate idea to the candidate with regard to his/her relative position only based on PPMET-2021. The PPMET Result 2021 is available on the University website. The Result so declared and Ranking so drawn shall be made known to each candidate by an official gazette, copies of which shall be available at the office of the University at Faridkot and University's web site www.bfuhs.ac.in.
Check PPMET 2021 Result Here
Lets us know your doubts and valuable suggestions by leaving comments in the below comment section. We will approach you timely with early replies. Stay tuned to our website @ exams.freshersnow.com for instant alerts on PPMET 2021.