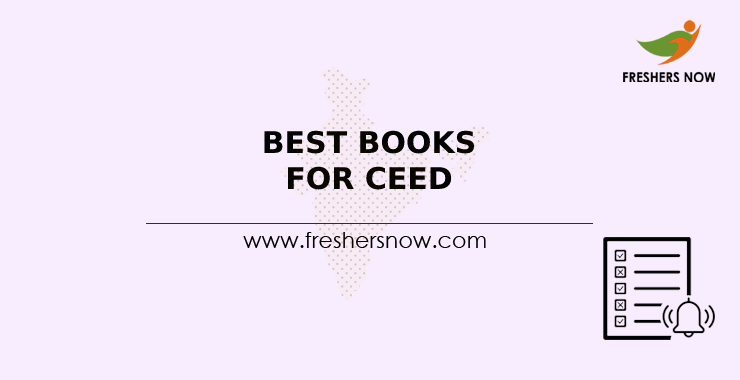 Best Books For CEED 2022 Preparation: Do you think you have landed in the right place for CEED 2022 Books? Definitely! a big yes to that. This article will take a guide through the best books for CEED 2022. Stick along and do not miss any key elements covered. Additionally, do not forget to take notes. Because these key points will be useful in your preparation as well as in your gathering of the resources. Be cautious with the steps that you take whilst selecting preparation books for CEED 2022.
Best Books For CEED 2022 Preparation
The best source to attain knowledge is through books. Get your hands on the best CEED preparation books. Crack this national-level examination whilst considering the conceptual books. Occupy yourself with a deeper understanding of the contents as well as the recommendations which are eventually given through the book. Serve the book as your guiding tool and not just give you tons of information. So, in the next section of the article, we are going to cover the essential follow-up points that you need to follow. This can help you with picking out the best books for CEED 2022 exam preparation.
To Follow
Consider these follow-up points before picking up resources for CEED 2022 prep.
Always check the author and the publications.
Ensure that you are gathering books from renowned authors.
Cross-check with the materials provided.
Make an assessment on the mock papers provided.
Understand the pattern flow of the topics listed.
CEED 2022 Preparation Books
Finally, here we are. List of the Best Books For CEED 2022 Preparation. Take a note and do not miss them.
| | |
| --- | --- |
| Book Name | Author/ Publisher |
| Quantitative Aptitude | RS Aggarwal |
| Design Drawing | Francis DK Ching |
| CEED + NID | AVANDIA |
| Art perception | David Cycleback |
| CEED (M. Des) Test Series | TRENDZ ACADEMY |
| Comprehensive English for NID, NIFT, UCEED, CEED, NATA, B.Arch | Designologue |
| CEED 2020 Exam Preparation – Advance Course Study Material | ICR Education |
| Cracking CEED & UCEED (with Previous Years' Papers and Mock Tests) | Ashok Goel and Arjun Kamal |
| Verbal and Non-Verbal Reasoning | RS Aggarwal |
| Perspective Drawing Handbook | Joseph D'Amelio |
To conclude, We hope that this article has answered your worry about what books to consider for CEED 2022 exam. Do not forget to stay connected with us. As we are not just providing you with information but also with the best books for competitive exams, study plans, revision tools, resources, and many more. All in one at same place Exams.Freshersnow.Com.