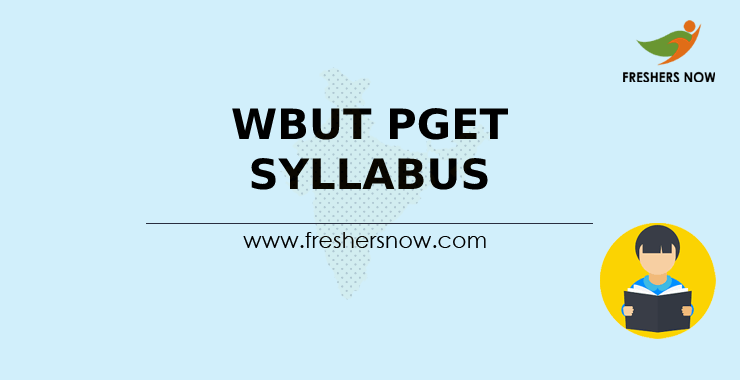 WBUT PGET Syllabus 2022 PDF Download & Exam Pattern: The officials of the West Bengal University of Technology will conduct the Post Graduate Entrance Test as per the scheduled date. So, all the candidates are requested to check the WBUT PGET Syllabus 2022 for the efficient preparation provided in this post. Therefore, look forward to the Subject-wise syllabus given for the WBUT PGET Exam. The Exam will be conducted in General Section, Mathematics, Basic Sciences, and Eng. Sciences, Engineering Section for 100 Marks. A total of 100 questions will be asked in the exam.
So, all the candidates can check this article and practice for the PGET Exam. We have also provided the WBUT PGET Exam Pattern in the below sections of this post. And moreover, students have the facility to download the Syllabus in the below parts of this post. We have provided some links for every subject of the WBUT PGET 2022 Syllabus. All the competitors check them once and start your preparation.
WBUT PGET Syllabus 2022 – Overview
| | |
| --- | --- |
| Name Of The Organization | West Bengal University of Technology (WBUT) |
| Name Of The Examination | West Bengal University of Technology Post Graduate Entrance Test (WBUT PGET) |
| Category | Entrance Exam Syllabus |
| Mode of the Exam | Online |
| Official Website | makautwb.ac.in |
WBUT PGET 2022 Syllabus
All the applicants check the above table regarding WBUT PGET Syllabus 2022 before the examination. Proceed further and get a PDF of the Syllabus for free of cost. And, we have also provided Notification Details on our site. Any of the interested candidates can apply for the exam as there is still more time to apply. And, we represent step by step process to register for the Exam. Moreover, we have Model papers for WBUT PGET in our portal with more advanced level Questions. Therefore, practice them thoroughly to get better results in the PGET Exam 2022.
WBUT PGET Exam Pattern 2022
It is very important for all the candidates to know the WBUT PGET Exam Pattern 2022. With that, you can easily know the topics which are to be covered for the test. So, all the aspirants check the Test Pattern we have provided in this section. The exam will be conducted for two hours and questions will be of Objective Type. The number of questions for the Test is 100. And for each question, one mark will be carried that is total exam is 100 scores. The exam is in section-wise criteria. There are three sections in the Exam. The first section is the General section, and this section is common to all the streams of the participants. And this section comprises questions that are related to general aptitude questions with logical reasoning.
Subject
Number Of Questions
Marks
General Section
20
20
Mathematics, Basic Sciences, and Eng. Sciences
30
30
Engineering Section
50
50
Total Questions = 100 Questions
Total Marks = 100
WBUT PGET Syllabus 2022 PDF Download
In this section, candidates have the opportunity to download every subject syllabus in the form of a PDF. So, proceed to the next sections and Download subject wise PDF. Moreover, Syllabus is different for different streams of graduates. Thus, we have provided individually to all streams that are going to participate in the Exam. The WBUT PGET Syllabus 2022 is provided subject-wise below. Candidates kindly notice this point and visit our site continuously. So, once we check our Syllabus and then proceed to prepare for the test.
General Section
Reasoning
Puzzles
Verbal Reasoning
Logical Reasoning
Data Sufficiency
Non-Verbal Reasoning
Data Interpretation
Analytical Reasoning
Aptitude
Time and Distance
Problems on Trains
Time and Work Partnership
Ratio and Proportion
Boats and Streams
Simple Interest
Areas
Averages
Problems with L.C.M and H.C.F
Pipes and Cisterns
Problems on Numbers
Compound Interest
VolumesProfit and Loss
Odd Man Out
Races and Games
Numbers and Ages
Mixtures and Allegations
Percentages
Simple Equations
Quadratic Equations
Indices and Surds
Mensuration
Permutations and Combinations
Probability
Simplification and Approximation
Mathematics & Science Section
Linear Algebra
Algebra
Complex Analysis
Functional Analysis
Real Analysis
Numerical Analysis
Ordinary Differential Equations
Probability and Statistics
Engineering Section
M.Tech
VSLI Design and Embedded Technology
Electronics & Communications
Mobile Communications
Micro Electronics
Information Technology
Nano Technology
Nano Science
Multimedia & Software Systems
Ceramic Technology
Computer System Technology
Software Engineering
Bio-Medical Instrumentation
Bio-Technology
Telecommunications
M.E.
Computer Science & Engineering
M.Pharm
Pharmacology
Pharmaceutical Chemistry
Pharmaceutics
Pharmacognosy
Pharmacology Toxicology
Quality Assurance and Pharm Regulatory Affairs
WBUT PGET Syllabus – Important Link
To Download WBUT PGET Syllabus 2022 & Exam Pattern PDF
 Click Here
Note: The above-given WBUT PGET Syllabus is only for reference purposes.
Therefore, all the candidates can easily download the WBUT PGET Syllabus 2022 for this post. For, more information you can visit our web portal Exams.Freshersnow.Com regularly.