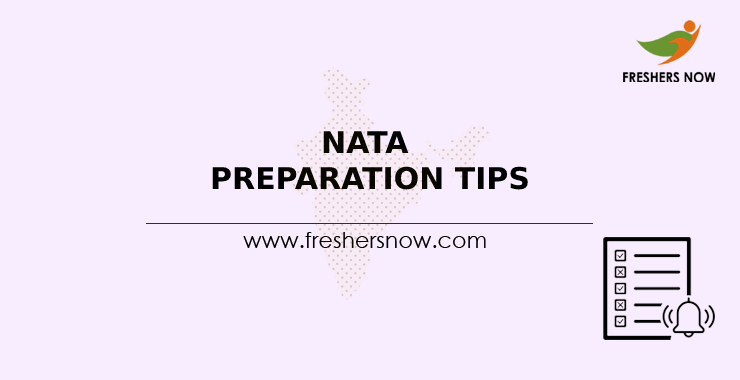 NATA 2022 Preparation Tips | NATA Exam Preparation Strategy, Study Plan: How to prepare for NATA exam? That's one question every aspirant asks. Worried and confused about how to start your NATA Exam Preparation? Read this article and go with confidence. National Aptitude Test in Architecture, conducted by the Council of Architecture for admission to the B.Arch course. NATA Entrance Exam is a high-level competitive exam that requires a longer period of practice. Here are the realistic NATA 2022 Preparation Tips, Strategies, and tips to crack the NATA Exam. With the utmost importance. This article will give all the information on NATA 2022 Preparation Tips and How To Prepare for NATA Exam.
How To Prepare For NATA 2022?
Wondering about How To Prepare For NATA Exam? This section of the article will guide you to crack the NATA exam and gain admission to the best colleges. Subsequently, you need to have dedication and determination in achieving your goal. Here are a few key points for your NATA exam.
To begin with, cultivate time management.
Next, Collect the right material.
Have a proper Schedule.
Prepare short notes on each topic.
Lastly, Do not take the stress.
Quick Tips & Tricks To Prepare NATA Entrance Exam
NATA Preparation Tips and Tricks will guide you to crack the NATA exam. These simple tips and tricks for the NATA exam will make your preparation more effective. Check out the preparation tips for NATA.
Focus on the syllabus.
Be creative.
Keep track of your time.
Be more confident.
Be thorough with the types.
Take the online tests.
Expert Tips To Crack NATA
Taking the valuable suggestion from experts adds some more flavor to our preparation. This section will guide you with some detailed tips by experts in cracking the NATA exam-
Improvise your drawing skills.
Illustrate your drawing in a 3D element.
Think unconventionally.
Find a proper sequence in answering.
Practice your drawing on A4 size paper.
Do not be oblivious of the architectural magnificence
Motivate yourself and work hard.
Prepare the rough outline first with a light hand.
Develop speed to answer all the questions.
Practice with dry colors.
Section Wise Preparation for NATA Exam
For the NATA exam, there are two sections that a candidate needs to attempt. Section-wise preparation for NATA exam is mentioned in detail in this section of the article.
NATA Part A
Aptitude
Keep on updating your general knowledge.
Gain information on various topics such as Buildings in India. Additionally, World, 2D, and 3D objects, Common Architecture, etc.
Maths
Formulas need to be handy
Practice the previous year's papers.
NATA Part B
Drawing
Drawing from day to day experiences
Understanding of scales and balance
Creating visual harmony
Creating an interesting 2D composition
Combing and composing given 3D elements
Sense of perspective drawing
NATA 2022 Preparation Stratagies
Preparation Strategies for the NATA exam are listed out very clearly so all the candidates can start following them in their preparation. NATA exam preparation requires these minimum NATA preparation strategies. Check out them and implement them in your practice.
Start your preparation in advance.
Practice Daily.
spend your time wisely.
Avoid distractions
Take mock tests.
Well, We hope that this NATA 2022 Preparation Tips article is very helpful and has guided you with valuable information. So, dedicate your time and give your best in preparing for the NATA exam. For more information and informative articles, stay connected with our website @ Exams.Freshersnow.Com.