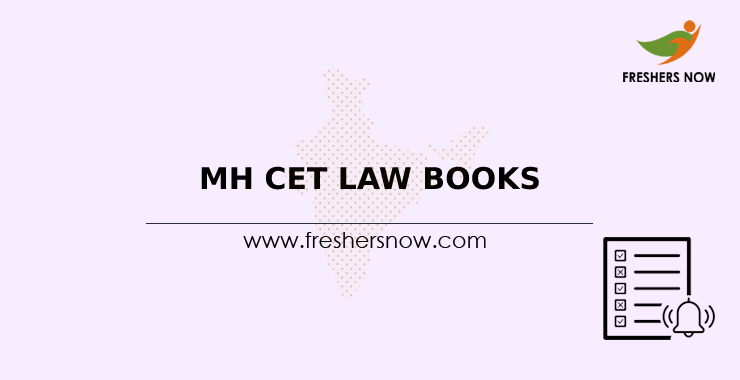 MH CET Law 2022 Books | Best Books For MH CET Law Exam Preparation: This article will guide you through MH CET Law 2022 Books. In order to get the Best Books For MH CET Law Exam Preparation, you need to have a constant outlook on this article whilst making notes. Follow along and do not miss any section of the article. Get the list of MH CET Law Books in one go. Firstly, understand the criteria of your preparation. Secondly, the level of your preparation will guide you through picking the right set of books for MH CET Law Exam. let u begin.
Subject Wise MH CET Law 2022 Books
MH CET Law Legal Aptitude and Legal Reasoning Books
Legal Aptitude for CLAT and other Entrance Examination, Bhardwaj
The Ultimate Entrance Guide to the LLB Entrance Examination 2022, M.A. Rashid and Nisa Fasil
The Complete Guide to Legal Aptitude and Legal Reasoning, Abhishek Krishna Gupta
Legal Awareness and Legal Reasoning by A.P. Bharadwaj.
Legal G.K. for Competitive Examinations by Universal Publications.
MH CET: Law for LLB (For 3 Years or 5 Years Course), Advocate Rewati Mohite and Gajanan Shewalkar
Maharashtra CET Law General Knowledge and Current Affairs Books
AIIMS General Knowledge with Logical Thinking with Monthly Current Affairs, Disha Expert
General Knowledge 2022 Capsule with Current Affairs Update, Disha Expert
CSAT Simplified 2022- 24 Years GS Solved Papers with General Knowledge and Current Affairs, Disha Expert
History, Geography, and Economics books NCERT
Newspaper (The Hindu/ Indian Express/ The Telegraph, etc.)
Read any monthly current affairs magazine
Lucent General Knowledge books
General Knowledge 2019 – 2020 by Arihant.
Yearly General Knowledge by Pearson.
MHT CET LAW Books for Logical and Analytical Reasoning
Logical & Analytical Reasoning (Useful for all Competitive Examination), A.K. Gupta
Analytical & Logical Reasoning for CAT and other Management Entrance Tests, Peeyush Bhardwaj
English Books for MH CET LAW 2022
Word Power Made Easy, Norman Lewis
Objective General English by S.P. Bakshi
English Grammar & Composition by S.C. Gupta
Objective English for Competitive Examination by Hari Mohan Prasad & Uma Sinha
Essential English Grammar, Raymond Murphy
English Vocabulary in Use, Felicity O'Dell
High School English Grammar and Composition Book, Rao N, NDV
Prasada Rao, D.V. Prasada
MH CET Law Mathematics Books
Mathematics for CLAT and AILET, LAWGICIANS
Mathematics for CLAT, Shailesh Kumar
Textbooks up to class 10 NCERT
Taxmann's Mathematics for CLAT Shailesh Kumar
Universal's Elementary Mathematics (Numeral Ability), Jain Prateek
Best MH CET LAW Quantitative Techniques Books
Data Interpretation by R.S. Agarwal.
Data Interpretation by Arun Sharma.
Practice Quizzes BYJU'S Exam Prep.
To conclude, all the MH CET Law 2022 Books are given out through this article. Implement these Best Books For MH CET Law Exam Preparation. Ace your exam and stay connected with us for more informative articles here at Exams.Freshersnow.Com.