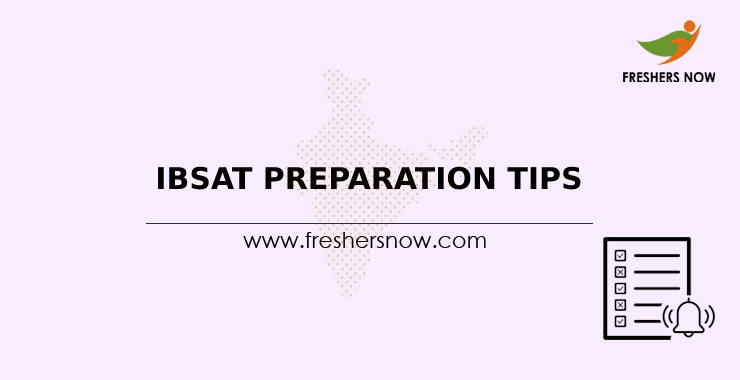 IBSAT 2022 Preparation Tips are conveniently available right here. Candidates who are looking for IBSAT 2022 Study Material and Preparation Guide have to definitely read through this article. This page will be the ultimate flex for all the aspirants who are willing to crack admission for MBA. So, do read through all the relevant details that will eventually help you to grow through the IBSAT 2022 Preparation. Write down what is best for your preparation level and ace that exam with confidence.
Candidates who are reading through have to cross every section carefully. Through this article, all the details provided you will get all the relevant details of how to prepare for IBSAT 2022. Additionally, you can gain a few tips for IBSAT 2022 exam. So, do not miss any of the parameters mentioned. Keep reading and implementing.
IBSAT 2022 Preparation Tips | Study Material, Preparation Guide
| | |
| --- | --- |
| Organization Name | Institute of Chartered Financial Analysts of India (ICFAI) |
| Exam Name | ICFAI Business School Aptitude Test (IBSAT) |
| Category | Preparation Tips |
| Exam Purpose | For Admissions into MBA, PGPM, and Ph.D. courses |
| Official Website | ibsindia.org |
IBSAT 2022 Preparation Guide
There are a few criteria that one needs to implement whilst starting their exam prep. Candidates, you are advised to look into the following key points mentioned as you will be led by IBSAT 2022 Preparation guide.
To begin with, the best IBSAT 2022 Preparation Tip that you can follow is to take hold of the IBSAT 2022 Syllabus. Whilst getting a good insight about the syllabus for the exam. You can eventually continue with the second thing.
The second most prominent element is to shortlist the IBSAT 2022 Books. Although every book that you have considered might be useful but choosing books in accordance with the syllabus does make your task much easier.
Moving on, there is another important thing to note down i.e always have sets of IBSAT sample papers to take up mock tests. This is a great way to track your preparation.
And, the best IBSAT 2022 Preparation guide that you can implement is to utilize the shortcut methods and the answering patterns that you are able to quickly access.
conclusion with the most relatable prep tip for IBSAT 2022 is to have a study routine that you can be habituated to. This will make your exam prep much easier.
IBSAT 2022 Test Pattern
Name of the Test
No. of Questions/ Marks
Total Time
Verbal Ability
50 Questions/ 50 Marks
2 hours (120 minutes)
Reading Comprehension
30 Questions/ 30 Marks
Quantitative Aptitude
30 Questions/ 30 Marks
Data Adequacy & Data Interpretation
30 Questions/ 30 Marks
Total Questions/ Marks
140 Questions/ 140 Marks
Preparation Tips for IBSAT 2022
Here is a quick list of preparation tips for the IBSAT 2022 exam. Note them down as you might not want to miss any of these crucial points.
Always start working on your basics. Which clearly indicates to make your fundamentals strong.
Although you have gathered or chosen the best books for IBSAT preparation. Alongside it is very important to refer to online IBSAT preparation guides.
Conversely, in a consistent manner try to take IBSAT mock tests, take note of your feeble areas and work more.
Invest time in answering the previous year's IBSAT question papers. This will definitely give you a lot of insight into the pattern of the questions.
Finally, be accountable and consistent. This means that you need to be regular in any online study group for IBSAT preparation.
Subject Wise IBSAT Preparation Tips
Verbal Ability
Well, the language section is indeed quite flexible. As this needs natural learning rather than memorizing tons of words. Read through the key point mentioned and you can get IBSAT 2022 Verbal Ability Preparation Tips.
Firstly, consider acing your vocabulary. Building new words every single day. This is one of the easiest ways to ace this section.
Work with the language apps and use thesaurus and dictionaries that are going to be helpful for references.
Repeatedly listen to English podcasts. You can include this in your study breaks as well as during your free time. This will definitely improve your vocabulary and speaking skills.
Fourth, habituate to speaking in English. Language conversations play the most prominent role in defining language proficiency.
Use resources like newspapers, magazines, academic articles etc. Additionally, work on quick reading and paraphrasing the text.
Reading Comprehension
Now, you might be thinking that working on this section can be done even at the last minute. But, there is more than what meets the eye. Candidates who are willing to practice this section have to follow IBSAT 2022 Preparation Tips for Reading Comprehension.
Firstly, cultivating the reading habit. Candidates note that reading can help you level up very quickly.
In the newspaper/articles continuously mark the passages and do the interpretation.
Thirdly, the most important preparation tip for IBSAT is to know how to read between the lines. This way you can understand the in-depth meaning of the text.
Always Underline the words that are hard to understand. Write down the meanings and implement those words.
Communicating in English is the ultimatum for practice.
Quantitative Aptitude
This section of the exam accounts for solving a complex range of questions. However, this section of the article will guide you through IBSAT 2022 Preparation Tips for Quantitative Aptitude.
Honestly, the IBSAT 2022 Quantitative Aptitude section is wholly based on application.
Candidates have to understand the core trick lies in solving mathematical problems.
Thirdly, use as many resources as possible. This way you can know which type of solving pattern works for you.
Speaking of solving, aspirants need to implement the right shortcuts and how to apply them.
However, Maintain consistency while practising the questions. Use formulas by heart and avoid using a calculator as much as possible.
Data Interpretation
Here you have the best IBSAT 2022 Preparation Tips for Data Interpretation. Usually, you might be wondering that this section is all about understanding the pattern of the question. But it is more than what meets the eye.
Firstly, try to cover all the basics. Ensure to ace the fundamentals, i.e. all the types of graphs, interpretation, etc.
As this section is considered to be a scoring section, the questions are usually moderate. So try to answer all of them.
Next, the most important element is to carefully read every context of the question.
Also, take note that a quick oversight or mistake causes you to lose a whole section of questions. So read and understand carefully.
Finally, implement the habits like – Solving puzzles, sudoku, and other similar brain games to train your brain.
IBSAT 2022 Last Minute Preparation Tips
Quick list of IBSAT 2022 Last Minute Preparation Tips. follow through. Do not miss out on these important parameters. Read through the following.
Be familiar with IBSAT Exam Pattern – this will help you to be aware of the structure of the paper very well.
Question Pattern – You should answer 120 questions in 140 minutes. So, knowing the question pattern will help you analyse the number of questions to answer in the time given.
Important topics – the previous year's papers are the best sources to know the importance and the repeated topics for exam preparation.
Topics Weight – it is very important to know the topic's weight. So that you can focus more on those particular topics.
Expected Sections – being aware of such small things will definitely create a huge impact. The majority of the questions can be expected from Verbal Ability followed by the Reading Comprehension section, Quant, and Data. So, prepare accordingly. Also, the sectional qualifying marks are essential for participating in the counselling process of IBSAT.
Revision – this should be done on a regular basis. Use a notebook for preparation and a flashcard technique for memorizing.
New Topics – in the last minute of your preparation do not include any of the new topics. This will create stress and chaos whilst being confident with the practiced topics.
IBSAT Preparation Material
IBSAT Previous Question Papers – Important Links
To Download IBSAT Previous Question Paper PDF
Click Here
Download IBSAT Previous Paper PDF
Click Here
To Download IBSAT Previous Question Paper PDF
Click Here
Download IBSAT Question Paper PDF
Click Here
To Download IBSAT Previous Question Paper PDF
Click Here
Note: The above given IBSAT Previous Question Papers are only for reference purposes.
Finally, it is time to level up your preparation for the exam. Use all the relevant tips for IBSAT 2022 Exam. Especially, the strategies that will work for you. Do well with the exam. Stay connected for more informative articles here in one space at Exams.Freshersnow.Com.