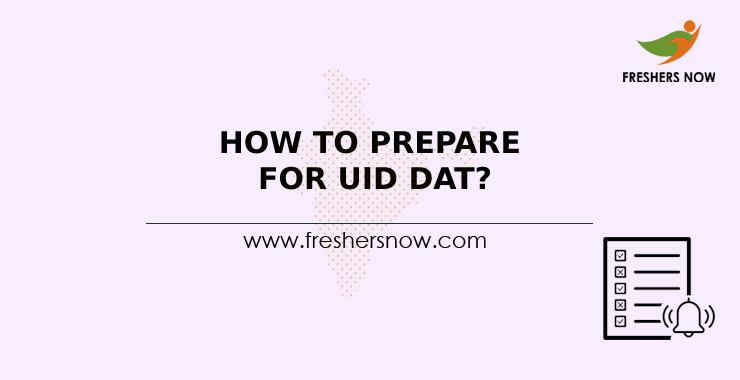 How To Prepare For UID DAT 2022? Preparation Tips, Strategies: How to Prepare for UID DAT 2022? This is a question for all the aspirants preparing for admission into B.Des. and M.Des. programs. Cracking this UID DAT is possible if you are having the right set of preparation tips. Preparation Strategies For UID DAT 2022 are listed section-wise below sections. Do not miss any part of the article. Make notes and do implement them in your practice.
How To Prepare For UID DAT 2022 Section-wise?
Looking forward to How to Prepare for UID DAT 2022 Section-wise? Here is the detailed information for the preparation. Take notes and follow respectively.
Part A – Awareness & Reasoning
Set up one hour each day.
Participate in GK quizzes.
Practice according to the difficulty levels.
Daily mock exam papers with time constraints.
Familiarise yourself with typical frameworks.
Part B – Interpretation and Expression
Be creative and come up with new ideas.
Build observation and visualization power.
Solve difficulties.
Practice drawing/sketching freehand.
Read through articles.
Preparation Tips For UID DAT 2022
Preparation tips for UID DAT 2022 are understandable and convenient. Make sure that you are ensuring yourself to practice them along. Practice and implement on a regular basis. The two main UID DAT 2022 preparation tips are as follows-
Understanding the exam pattern
Assists in setting priorities.
Questions pattern regarding topics
Mock tests
A replica of real-life test experience.
Examine and analyze your score.
NID DAT 2022: Last Minute Preparation Tips
This section of the article will help you with NID DAT 2022 Last-minute preparation tips. Follow along.
Work on a strategy basis.
This will help you to work on target levels. Working/ practicing on this level will help you understand the criteria that you need to set. Additionally, you would also gain the process of strategic thinking.
Solve complex questions.
Practicing the difficulty levels will help you understand the levels that you need to master. However, to ace your exam you need to implement fast-paced solving of the questions. Subsequently, you would also be covering the topics.
Spend an average of seconds answering each question.
Setting time limits for yourself is a good pathway to preparation. To begin with, you need to start off with the basic foundational topics. Eventually, level up your topics according to the prioritized lists.
Prepare flashcards
Making notes a mini handy tool will always be helpful in the long run. Flashcards will not only have your notes easy but also will be helpful to memorize. You can remember topics/ subtopics for a longer period of time.
Be calm and motivated.
Keeping yourself at a point of comfort is taking care of your mind. Additionally, this will be helpful to think and work properly. Eventually, this calmness will lead you to stay motivated.
Do not cover a new topic in the end.
Now, this is a mere caution. Taking up new topics is not the right thing to do. Especially, at the last minute. However, to remove this kind of confusion level, you need to maintain a setback priority list at ease.
Cultivate a study routine.
Always a good move to follow this. Habituating yourself to a routine will ensure your confidence. Along with this, you would be able to understand the patterns of study that you are picking up for your difficulty level.
Take up revision sessions.
Revision is always suggested on a daily basis. Set your time for revision. This should not be done once a week or twice. But, it is to be done on a regular schedule. This will help you understand the flow of the subjects.
Make honest assessments.
Assessments after every topic are very essential. In addition to this, you should always be honest with your marking parameters. Enable yourself to work along the left out topics, the ones which are difficult, etc.
Be accountable.
The foremost prep tip is always to be accountable. Taking a stand on what you have practiced will help you assess yourself. However, do not be discouraged. BUt, take a leap of faith.
To conclude, we have cleared your worry about How to Prepare for UID DAT 2022?. The all-in-one preparation tips and strategies for UID DAT 2022 are all handy. For more informative articles, stay connected with us at Exams.Freshersnow.Com.