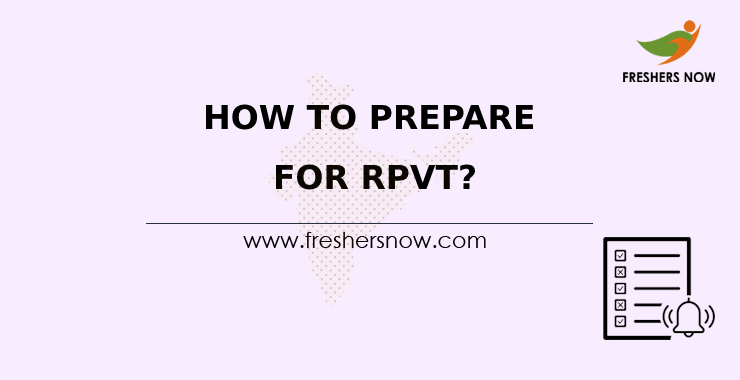 How To Prepare For RPVT? RPVT Exam Preparation Tips & Strategies: Are you wondering How to prepare for RPVT? this article will guide you through RPVT Preparation Tips & Strategies. And all the essential information which is required for you to crack the RPVT Entrance Exam. As the examination is opened from qualified Class 12th students, this might be a mere pressure and might leave you in the thought of How to prepare for RPVT? Do not worry, as this article is going to rightly guide you will all the preparation tips for RPVT Exam. Follow all the sections' to understand tips and tricks which are essential for RPVT preparation.
How To Prepare For RPVT? RPVT Exam Preparation Tips & Strategies
| | |
| --- | --- |
| Organization Name | Rajasthan University Of Veterinary And Animal Sciences (RAJUVAS) |
| Exam Name | Rajasthan Pre Veterinary Test (RPVT) |
| Category | Preparation Tips |
| Admissions to | To provide admissions into B.V.Sc. & A.H. Degree Course |
| Official Website | rajuvas.org |
How To Prepare For RPVT?
For students who are desiring to become Veterinary Doctors, qualifying RPVT exam is the pathway. There might be this thought of how to start preparing for RPVT? or How to prepare for RPVT?
Well, the first thing that you need to do is eliminate all your doubts and pressure. The exam is going to be based on class 11 and 12 syllabi. So you can start from there itself.
Categorizing the topics accordingly to the complexity is the second thing that you must be doing.
Thirdly, ensure that you are scheduling your preparation according to the prominence of the concepts or repeated topics.
Fourth, cultivate the habit of time stamping your topics for revision.
Finally, habituate yourself to a routine or a timetable that you would be sticking to.
RPVT Preparation Tips & Strategies
Still, got your thoughts on How to prepare for RPVT? This section is all about- Tips, Preparation Strategies for the RPVT exam. Those who are desiring to see themselves as Doctors. Put your effort into these tips, work hard, and implement these strategies in your preparation for the RPVT exam.
Knowledge about the examination pattern will help you understand the patterns of questions.
Gather study materials and books. Keeping an eye on the usage of resources will be anis ensuring your practice is prioritized in one track.
Divide your subjects according to the complexity.
Prepare a timetable and make timely slots for revision.
Take guidance from your mentors or seniors which helps you to be cautious of the changes.
Preparation Tips To Crack RPVT Entrance Exam 2022
Need Preparation tips to crack the RPVT exam, here you go. These preparation tips for RPVT will guide you in your schedule and help you to score best in your RPVT exam.
Understand your syllabus/ topics pattern.
Follow the prescribed syllabus/ topics.
Create a study routine.
Have the preparation of a handy note.
Solve previous years' papers.
Cultivate revision schedules.
Monitor your assessments.
Keep track of your practice sessions.
Enable your memorizing technique.
Create a timeline of topics that need to be mastered.
RPVT Exam Preparation Strategy
We have already covered preparation tips then what are these? Consider these as the Last Minute Preparation Strategy for RPVT. Candidates who are concerned about how to prepare in the last period of time then this might help you.
Prepare short notes.
Draw diagrams or flow charts
Do not stress learning new topics.
Spare time for revision.
Read aloud/ writing topics.in
RPVT Entrance Exam preparation article has rightly guided you with all the informative Preparation tips and strategies for the RPVT exam. Dedicate your time, put in your efforts, and work hard. We hope this article has equipped you with you valuable information for RPVT. For more information and informative articles, stay tuned to our website @ Exams.Freshersnow.Com. Good luck with your exam.