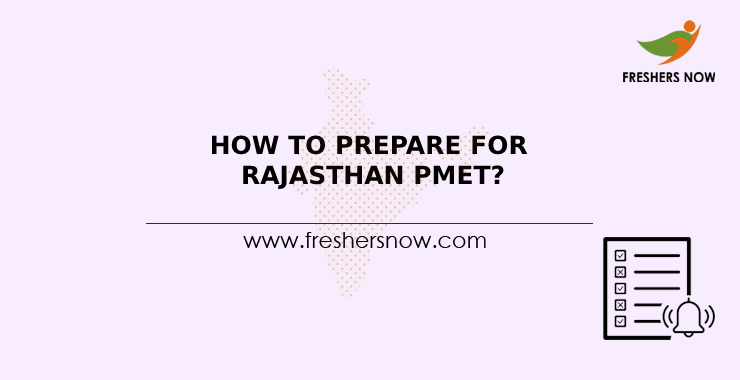 How To Prepare For Rajasthan PMET 2022? Preparation Tips & Tricks, Strategy: A candidate who applied for Rajasthan PMET. But tense about How To Prepare For Rajasthan PMET? then you are at the right place. Candidates who are willing to do M.Ed in Rajasthan, need to attempt for Rajasthan PMET. To cover all the complete syllabus, candidates should dedicate and invest more hours in learning and developing. This article is going to be a quick guide in giving preparation tips, preparation strategies, subject-wise preparation tips, etc. Scroll down to know the information given in each section.
How To Prepare For Rajasthan PMET 2022? Preparation Tips & Tricks, Strategy
| | |
| --- | --- |
| Organization Name | University Of Rajasthan, Jaipur |
| Exam Name | Rajasthan Pre-Master of Education Test (Rajasthan PMET) |
| Category | Preparation Tips |
| Exam Purpose | To provide admissions into M.Ed 2 Year Course |
| Official Website | uniraj.ac.in |
How To Crack Rajasthan PMET 2022?
How to prepare for Rajasthan PMET ? is what you are searching for. Well, this part of the article tells you the major key points to be noted in your exam preparation. Here you go:-
Firstly, Know the exam format for better understanding.
Secondly, Segegrate the topics and set a timetable
Thirdly, Gather all the essential material required
Fourthly, Write what you read
Finally, To remember, revise daily.
Rajasthan PMET 2022 Test Pattern
| Subject Name | Questions | Marks |
| --- | --- | --- |
| Social and Philosophical Foundation of Education | 50 | 150 |
| Psychology of Learning | 50 | 150 |
| Educational Management and Educational Technology | 50 | 150 |
| Teaching Efficiency | 50 | 150 |
| Total | 200 Questions | 600 Marks |
Rajasthan PMET Preparation Tips
Rajasthan PMET has all the vast sections top cover. To get the best score in all sections, you need to have Rajasthan PMET preparation tips handy. Here are some of the Rajasthan PMET Preparation Tips are as follow:-
Develop critical thinking
Improve reading speed
Manage your time
Make a self-analysis
Always have a mentor
Do not skip any of the topics
Track your progress every week
Take timely breaks
Keep on practicing Mock tests
Avoid Stress while reading
How To Clear Rajasthan PMET? Preparation Strategy
This section is going to be a quick guide for Preparation Strategy. A few key points that need to consider and implement in your Rajasthan PMET exam preparation.
Understand the syllabus carefully
Go through at least one set of commercial preparation materials
Improvise your speed and accuracy
Dedicate yourself to preparation
Do not stress on one topic
Work on the sample papers
Stay confident and calm
Subject Wise Rajasthan PMET 2022 Preparation Tips
Rajasthan PMET preparation will be covering all the concepts and syllabus. Candidates who are searching for Subject wise tips can be rightly guided here. Take note of them and start implementing them in Rajasthan PMET exam preparation.
Mental Ability
The candidate should be creative in answering.
Analyze the text while you reading.
Check out the previous year's question papers.
Language Proficiency
Develop the quick reading ability
Divide the time according to the topics
Read novels, articles, and some editorial sections carefully
Improve vocabulary skills
Give time to understand the correct meaning of the sentences
Teaching Aptitude
Understand the passages clearly
Learn some tricks to answer the questions.
Boost your vocabulary to deal with wordy sentences.
General Awareness
Knowledge on present issues going on
Know the history of Rajasthan and its culture
Tricks To Crack Rajasthan PMET 2022
This section will be a guide for Preparation Tricks to crack Rajasthan PMET. Aim your exam by following these Preparation Tricks for Rajasthan PMET. Here are they
To begin with, Always discuss with your friends/ mentor
Secondly, Clear all your doubts about the topics
Thirdly, While your preparing, highlight the important text
Fourthly, Do not guess any new topics before the exam
Lastly, Avoid giving personal suggestion
Rajasthan PMET Study Gudie
Important Link
To Download Rajasthan PMET Teaching Efficiency Previous Question Paper PDF
Click Here
To Download Rajasthan M.Ed Entrance Exam Model Paper PDF
Click Here
NOTE: All the candidates have to remember that the above-given Rajasthan PMET Previous Year Papers are only for reference purposes.
To conclude, Exams.Freshersnow.Com has guided you with the best Tips and Tricks for Rajasthan PMET as well as Preparation for Rajasthan PMET. Stay tuned for more informative, guided study articles and ace your study routines only with Exams.Freshersnow.Com.