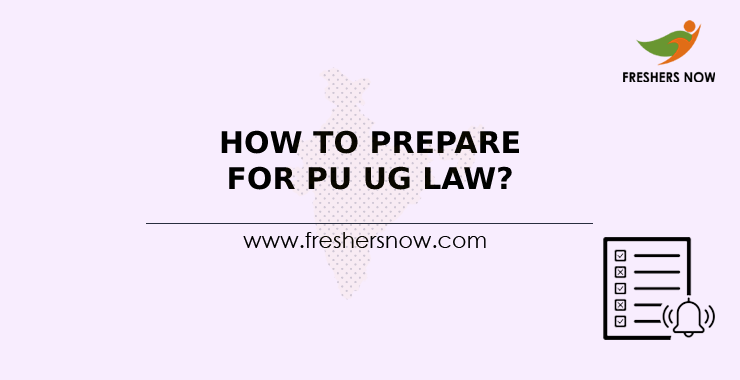 How To Prepare for PU UG LAW 2022? Preparation Tips, Guide: How To Prepare for PU UG LAW 2022? Thought can be constituted with the PU UG LAW 2022 Preparation Tips and Guide that this article is going to present to you. Not just in a common way but through the most sensical manner. The article will surely guide all the realistic PU UGLAW 2022 Preparation Tips. Aspirants who are willing to crack PU UGLAW 2022 have to constantly implement these preparation tips so that they can achieve a clear and successful outlook on their preparation.
How To Prepare for PU UG LAW 2022? Preparation Tips, Guide
| | |
| --- | --- |
| Organization Name | Panjab University |
| Exam Name | PU UG LAW 2022 Entrance Exam |
| Category | Preparation Tips |
| Exam Purpose | To offer admissions into PU B.A./ B.Com. LL.B. (Hons.) (5 years) Integrated Course |
| Official Website | uglaw.puchd.ac.in |
PU UG LAW 2022 Preparation Tips
Candidates before heading right into the article. Here is an insight and a brief about what you should be aware of. Students need to consider some of the basic tips for PU UGLAW 2022. This will definitely give a drive through all the relevant pre-prep stages of practice.
Firstly, aspirants need to be well aware of the PU UGLAW Examination Pattern. This will give an insight into the structure of the exam.
Next, it is very important to know the PU UGLAW Syllabus. Through this, students can gain insight into the topics.
Furthermore, the next important thing to do is to have the old question papers handy. This will make revision and practice much easier.
Fourth, is to have time divisions for all the preparation sectors that you are investing. Through which you can have self-analysis.
Finally, candidates should always focus on taking notes. Note-taking will surely help the candidates for quick review and relearn the completed topics.
PU UG LAW 2022 Test Pattern
| | | |
| --- | --- | --- |
| Subjects | Questions | Marks |
| General Knowledge and Current Affairs | 60 | 60 |
| Aptitude for Law | 20 | 20 |
| Mental Ability | 10 | 10 |
| English Language | 10 | 10 |
Section-Wise PU UG LAW 2022 Exam Preparation
Candidates note that the PU BA LLB entrance exam consists of varied questions from vivid subjects. They are Legal Aptitude, General Knowledge & Current Affairs, Mental Ability, and English. So, applicants must have a thorough overview of the aforementioned subjects deeply in order to crack PU BA LLB Exam. This section of the article will guide you through a detailed structure of the section-wise PU BA LLB exam preparation tips and tricks that will definitely help the candidate having a progressive preparation for Panjab University.
Legal Aptitude
This is considered to be the main section of the exam. Students need to be vigilant enough in carrying out the PU BA LLB Exam Preparation for Legal Aptitude. However, to embark on the view that the majority of the candidates often get confused in regards to the answering and understanding of the questions. So, they tend to waste a lot of time whilst randomly attempting questions. Here are a few tips for PU BA LLB Legal Aptitude.
Candidates, be aware that the aim of the exam is to analyze the legal acumen. You should be well aware of the question type and pattern.
Next, always formulate a plan of action that fits your answering criteria. This will make you know the type of answering pattern that suits your credibility.
Furthermore, try to lend more time to the topics that are tricky or patterned in a difficult manner to answer.
As this section is to analyze the core knowledge of the candidates that are based on the legal facts/ events. Candidates should have a vital pick-up in knowing the sub-links of the topics.
Finally, it is very essential to put the basics first like – the Constitution of India, concepts of law and legal terminology, legal principles, and legal current affairs precisely.
General Knowledge and Current Affairs
It is no wonder that PU UG LAW Exam Preparation for General Knowledge and Current Affairs section is quite easy. If you are well equipped with the facts and updates in a timely manner. This section constitutes a simple analogy that candidates either know the answer or you do not. There is nothing in between. However, this section is considered to be one of the scoring subjects of all. A myth that usually waves around is regarding its vastness and capturing tons of data. But it is very essential to realize that General Knowledge and Current Affairs subject itself has the potential range of differentiating a topper from an average student. Here are a few tips for PU UG LAW GK.
To begin with, candidates should always have the previous year's question paper and sample papers handy. Through this, you can understand the pattern of topics and the years of importance.
Secondly, work on the topics that are boosting your interest and further move to the tough concepts. This will definitely help in understanding the concepts and grasping the core concepts better.
The most essential tip for GK is to always stay updated with the daily news. Use the sources like newspapers, magazines, and journals on a regular basis. Do focus on the editorials.
The next important step that you need to work on is to be thorough in the common topics like technology, sports, finance, history, geography, and computers.
Finally, make use of the online quizzes and mock tests. Through this, you can have a self-assessment of the scores.
Mental Ability
Working for the Mental Ability in PU UG LAW exam demands tons of practice. This subject is referred to as highly time-consuming. Additionally, this can take a toll on the final performance of the candidate. So, make sure that you follow through with the mentioned PU BA LLB Preparation Tips for Mental Ability
Candidates need to habituate time management skills. Because solving questions in this section needs a proper time investment. You should be able to match the track of time and the answering technique.
Conversely, candidates are also advised to start their preparation early. As there are many sessions that require an understanding of the question structures. Candidates need to be aware of their preparation investment.
Thirdly, candidates should be able to understand their preparation criteria and their levels. This means that they should be quite vigilant enough in choosing reliable sources of books. Ensure that the PU UG LAW Books are updated as per the latest advancements.
Furthermore, be able to gather the right fundamentals and basic concepts of important topics of mental ability. Picking these in the right manner will help you work faster.
Finally, work with a clear comprehension of the basics, the questions become easy to dissect. Through this candidates can gain much knowledge on the priority-based questions.
English
The language section usually takes lesser time if you are an intermediate user of the English language. PU UG LAW English Preparation tips can be followed by any candidate. As these tips will be helpful in not just starting the preparation but will surely build a pathway of having a checklist to practice regularly. Follow the mentioned parameters while preparing for the PU UG LAW English Exam.
Work thoroughly on the grammar books and the implementation of the rules of the language. This will give an awareness of the language and make it less complex.
Note that, most of the questions in the exam will be based on the comprehension of the English language that accurately requires good use of grammar and word usage.
Therefore, it is also essential to identify your vocab strengths and weaknesses and accurately devote time accordingly. Because being aware of the number of words will surely benefit you to use language more accurately.
Fourth, is to have practical implementation of the language. Enhance your vocabulary by reading every day and building conversations on a regular basis.
Finally, always have a track of the level of practice that you are able to do. Implement previous year's question papers, sample papers, and mock tests to get a better idea of the type and pattern of questions.
PU UG LAW 2022 Preparation Guide
PU UG LAW Previous Question Papers – Important Links
To Download PU UG LAW 2021 Previous Question Paper PDF
Click Here
Download PU UG LAW 2019 Previous Paper PDF
Click Here
To Download PU UG LAW 2018 Question Paper PDF
Click Here
Download PU UG LAW 2017 Previous Question Paper PDF
Click Here
To conclude, aspirants are guided to the best of their abilities. It is now the candidates' turn to use the mentioned PU UG LAW 2022 Preparation Tips. eliminating the thought of How To Prepare for PU UG LAW 2022? The article has given the best output of all the relevant Tips for PU UG LAW 2022. For additional guidance regarding any entrance exam preparation, make sure that you are following our website at Exam.Freshersnow.Com.