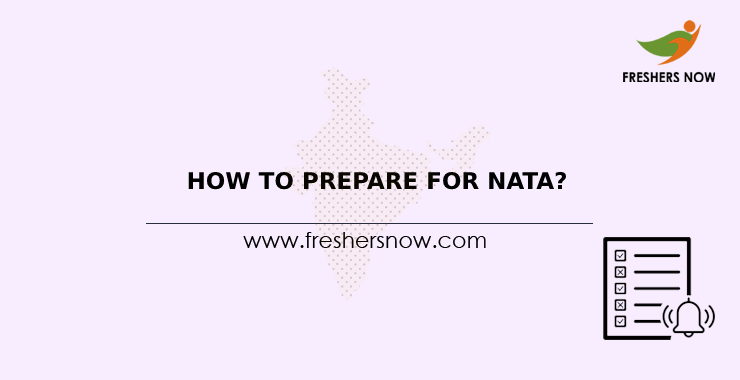 How To Prepare for NATA 2022? Preparation Strategy, Tips, Study Material: Candidates who are interested in drawing and want to do Architecture then need to have the NATA exam. Every year there will be two sessions to write the NATA exam. There will be a large of candidates appearing for the NATA exam, candidates should have a proper strategic study plan and preparation tips. Candidates take the National Aptitude Test in Architecture as one of the prestigious exams to have admission in this makes candidates proud. To be a part of this proud moment then collect the information given in the section. In this article, we have given NATA preparation strategies, preparation tips, study plans, section-wise preparation tips, and study material. Grab all the info given in every particular section and gain your admission.
How To Prepare for NATA 2022? Preparation Strategy, Tips, Study Material
| | |
| --- | --- |
| Organization Name | Council of Architecture |
| Exam Name | National Aptitude Test in Architecture |
| Category | Preparation Tips |
| Exam Purpose | Five-year Bachelor of Architecture (B.Arch.) degree course |
| Official Website | nata.in |
How To Crack NATA?
Thinking about How To Prepare for NATA? then you must grab the points given in this section. National Aptitude Test in Architecture is an entrance exam conducted by the Council of Architecture (COA) to give admission in B.Arch. This exam will be held twice a year. All you need to have is proper preparation tips with knowledge of exam details. Follow these tips in your exam preparation. Check out them:-
Initially, Candidates should get through the exam syllabus which is prescribed.
Secondly, Collect all the right resourced material to study and understand the concepts
Thirdly, Segregate the topics which are tough for you and have an extra hour
Fourthly, Prepare your own notes on all the topics, it will help you to revise at the last moment
Lastly, Check previous year's question papers to understand the question types
NATA Test Pattern
| | |
| --- | --- |
| Duration of the Exam | 180 Mins |
| Type of questions | Multiple-Choice type (MCQ), Multiple Select types (MSQ), Preferential Choice type (PCQ), and Numerical Answer type (NAQ) and Match the following type (MFQ) |
| Marking Scheme | The questions will carry either 1 mark,2 marks, or 3 marks |
| Total Questions | 125 Questions |
| Medium of Aptitude Test | English Language |
NATA Preparation Strategies
To have a good score and see yourself at the top rank then you must have the right preparation strategy. Here we have given NATA preparation strategies. Implement in your exam preparation and aim for what you desired. Check them out:-
Go through the exam paper format to know the important questions
Separate your weak topics in the prescribed syllabus
Create a timetable to cover the whole syllabus
Keep on reviewing yourself with the mock papers
Make sure you use a quality time to read all the topics
Always have a refreshed mind to start any weak topic
Practice your drawing skills with some tricks
NATA Preparation Tips
Entering high-level exams like NATA needs preparation tips. This section of the article will tell you about the NATA Preparation Tips. Check out them:-
Understand the mark scheme
Work hard on your weak areas
Good to have monthly and weekly targets
Strictly follow your schedule
Have a self-check on your preparation level
Highlight the important points and remember them
In-depth knowledge of every subject is mandatory
Attempting mocks is compulsory
Prepare your own notes on every topic
Give a quick revision, at the last hour
Section Wise Preparation Tips for NATA Exam
As there is no negative marking for NATA Exam then candidates can freely study the concepts. Never skip practicing drawing as this will be scoring to the candidates. Therefore, candidates can attempt any question by taking off fear. Here you go:-
NATA Exam Part A
Aptitude
Calculation speed should be an increase
Keep yourself updated with all the new facts and issues
Understand the core concepts and have a regular practice
Maths
Take a proper guide to practice the problems
Formulas need to be by heart
Increase your speed and accuracy
Physics & Chemistry
Numerical problems and equations must be practiced
Particular basic concepts should be studied
Attempt online series test
NATA Exam Part B
Drawing
Regular practice should be done on drawing
Thorough with the balance and scale
Create visual harmony by using colors
By given shapes and forms, create a 2-D composition
Always sense your perspective in drawing
Last Minute Preparation Tips for NATA Exam
Want to know the Last minute preparation Tips for NATA? This part of the article will be helping hand in giving Last minute preparation Tips for NATA. Check out them:-
Do not take too much stress
Have a short timetable according to the days you have
Revise the notes you prepared
Clear out all the confusion
Invest more time in your preparation
Solve online test series
Set up an ambition to study
Make sure you have some targets daily
Be motivated in everything you do for the exam
Practice drawing with a fresh mind
NATA Exam Study Plan
If you are the candidate searching for NATA Study Plan? Well, this part will help you in the long run to ace NATA.
Firstly, a Solid Understanding of the mark scheme
Secondly, Gather the study materials
Thirdly, Time management
Fourthly, Analyze self-preparation
Lastly, Solve previous question papers
NATA Preparation Material
NATA Previous Question Papers
To Download NATA Model Question Paper PDF
Click Here
Download NATA Sample Question Paper 1 PDF
Click Here
To Download NATA Drawing Model Paper PDF
Click Here
Download NATA Exam General Aptitude Old Paper PDF
Click Here
To Download NATA Mathematics Previous Paper PDF
Click Here
Note: The above given NATA Previous Question Papers are only for reference purposes.
In short, This article has right equipped with NATA preparation tips, strategies, last-minute preparation tips, study plans, etc. All you need to do is work hard and aim for your ambition. For further articles and information stay connected to our website Exams.Freshersnow.Com.