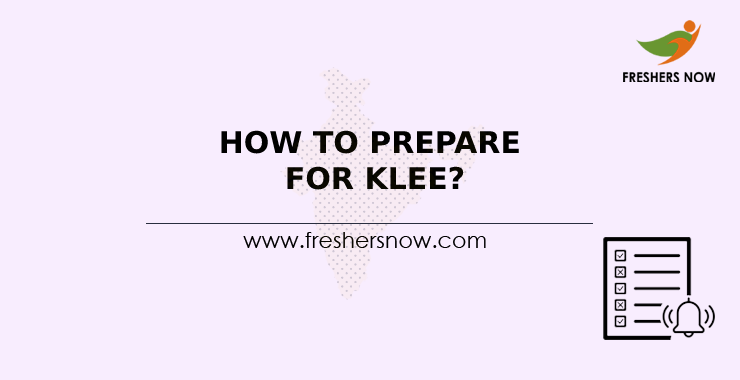 How To Prepare for KLEE 2022? Preparation Strategy, Tips: To crack Kerala Law Entrance Exam (KLEE), candidates should excel in preparation. How to Prepare for KLEE 2022? Should not be a worry anymore. It is necessary to be proficient in the subjects like English, aptitude, general knowledge etc.
Here, in this article, you will know- Preparation Strategy, Tips tips on how to prepare for KLEE 2022. Do not miss any section of the article. This will have all the crucial aspects to make your preparation better.
How To Prepare For KLEE 2022?
Design a strategic plan for study
Candidates should implement a strategic plan to excel in KLEE 2022. Go through the syllabus and exam pattern. Start studying for around 4-5 hours minimum. Manage your time properly for all the subjects.
Go through the right books and study materials
Refer to the right study materials and books that are relevant.
Resources should be exam-oriented content.
Prefer concise and easy language.
Cover all crucial topics
Cover the important. For instance, legal studies, arithmetic, mental ability, and general English.
Prepare notes and memorize them properly.
Revise regularly.
Take mock tests
Attain a good understanding of the examination pattern.
Learn time management.
Type of questions to be asked.
Read Newspapers
Stay updated with current affairs.
New national and international developments.
Make notes from daily newspapers/articles.
Subject Wise KLEE Preparation Tips
Candidates should focus on subject-wise preparation to ace KLEE 2022. Aspirants, check the subject-wise preparation tips below. Leave your worry about How To Prepare for KLEE 2022?
General English
Follow recommended English grammar and vocabulary books.
Practice sentence structure and rearrangement, antonyms etc.
General Knowledge
Cover topics on Indian history, science and technology, current affairs, economics and polity.
Should be updated with the latest developments.
Arithmetic and Mental Ability
Learn the fundamentals.
Practice sample papers and make assessments.
Aptitude for Law Studies
Cover major topics like Indian Constitution, fundamental rights and duties.
Know the question patterns and difficulty level.
KLEE 2022 Preparation Tips
This section of the article has comprehensive KLEE 2022 Preparation Tips. Make sure that you are noting them down. Practice and implement them on a regular basis.
Practice the Fundamentals
The exam assesses the candidates' fundamental knowledge and abilities.
Assesses basic quantitative knowledge.
Includes majority of themes from mathematics based on the 10th and 12th.
Remember the Important Topics
The exam tests the knowledge of applied chemistry.
Select the important areas and cover them thoroughly.
Master the Verbal section
Must read newspapers every day.
Study new terms, synonyms etc.
Improve reading comprehension and basic grammar.
Revise Formulae and Short Tricks
Implement useful methods to solve tricky problems.
Revision on a regular basis.
Practice Mock Tests
Familiarise yourself with the exam format, syllabus.
Finish the test in the allotted time.
Accuracy
Correctness and precision in all of the answers.
Require consistency in practice and solving.
Time Management
Timetable is required for a well-thought-out strategy.
Make handy notes in your schedule.
Stay connected for more informative articles @ Exams.Freshersnow.Com. Candidates can bookmark our site to get all the latest news and notifications.