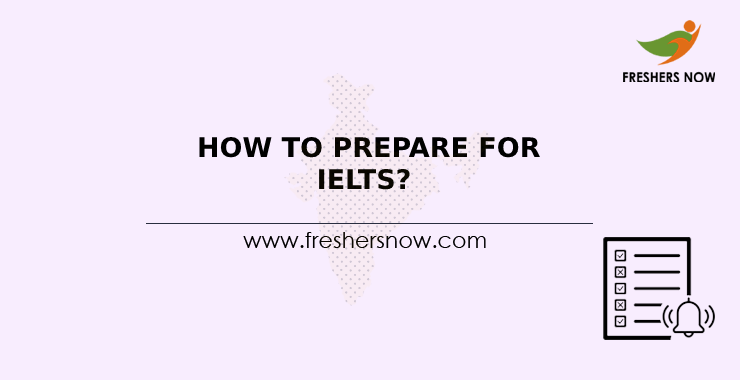 How To Prepare For IELTS 2022? Preparation Tips, Strategy: IELTS Preparation begins with dedication and time management. If you are wondering about – how to prepare for IELTS 2022? Well, then you have come to the right article. Through this article, you will be able to understand the parameters that you need to set for IELTS preparation.
Consequently, this article will give you IELTS preparation tips and strategies. Ensure that you are taking notes and all the required IELTS tips to crack the exam. Follow along and do not miss any of the sections mentioned.
How To Prepare For IELTS 2022? Preparation Tips, Strategy
| | |
| --- | --- |
| Organization Name | IELTS |
| Exam Name | International English Language Testing System (IELTS) |
| Category | Preparation Tips |
| Exam Purpose | Non-native English speakers |
| Official Website | ielts.org |
IELTS Test Pattern
There are two types of IELTS: Academic and General Training. All test takers take the same Listening and Speaking tests but different Reading and Writing tests. Make sure that you prepare for the correct test type. The Listening, Reading, and Writing sections of all IELTS tests are completed on the same day, with no breaks in between them. The Speaking section, however, can be completed up to a week before or after the other tests. The total test time is 2 hours and 45 minutes.
Preparation strategy for IELTS
Firstly, Understand the test format. You should always make sure that the test sections are well understood. Familiarise yourself with the format of the test by reviewing the test content. This will help you with time management as well as practicing the modules in time frames.
Secondly, work on the IELTS sample questions. This will always be helpful in the long your of your IELTS preparation. Including sample questions can help you familiarise yourself with the way that you are applying the pattern of answering the questions. Additionally, you will be able to be clear on the context of the questions which are being asked.
Thirdly, always have IELTS Progress Check and this includes the IELTS official practice test. To mark upon, IELTS Progress Check is an official IELTS online practice test, marked by IELTS trained and qualified markers. Through this, you will be able to have a clear understanding of where you stand out.
Fourth, IELTS time management. This is the next important IELTS preparation strategy. As the IELTS exam consists of four sections, where three sections need to be taken at a stretch. You need to focus on managing your time wisely. Be aware of the exam time constraints.
For instance, in order to practice IELTS listening, you should be able to look out for the immediate questions that are proceeding. Next, for the IELTS Reading section, one should be able to work on managing the sectional passages. As you have to answer three passages, focus on the complex one and then proceed with the rest. Lastly, the writing module, required quick phrases and cohesive devices to be put to writing. Additionally, for the speaking part, you have to manage your time in the context of the answer that you are speaking.
Finally, Develop your English capabilities and IELTS strategies. This will always be productive progress. It is not just doing IELTS practice tests but you also have to improve your English.
IELTS Preparation Tips
Here are quick IELTS preparation tips. Follow them on a regular basis. Implement them in your preparation and eventually, you will be able to evaluate your preparation for IELTS.
Multitask when listening in English
Develop a wide range of reading skills.
Use appropriate and assertive English terms when writing
Speak with fluency or coherence in direct communication
Immerse yourself in English.
IELTS 2022 Preparation Tricks
IELTS 2022 tricks will be effectively useful. As these are considered to be the most realistic IELTS tricks that you can use in your IELTS preparation.
Have daily word target.
After each module take a mock test.
Practice speaking on a regular basis whilst recording your audio.
Focus on writing the answers first, instead of matching/ choosing.
Be consistent in framing new sentences/ word structures.
IELTS Study Material
Important Link
To Get IELTS Sample Test Questions
Click Here
Level up your IELTS 2022 preparation with the provided IELTS preparation tips and strategy. Good luck with your exam. Stay connected for more informative articles with us – Exams.Freshersnow.Com.