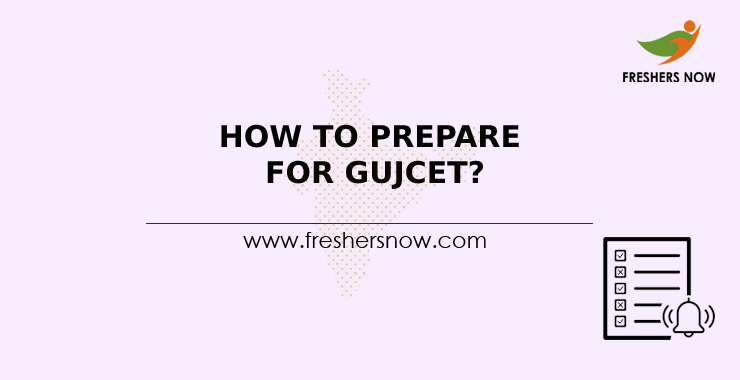 How To Prepare For GUJCET 2022? Preparation Tips, Strategies: Grabbing a qualifying mark in this Gujarat Common Entrance Test (GUJCET) is a State Level Exam and it is not an easy task. And candidates keep wondering How to Prepare for GUJCET 2022? If so, this article is going to give you the GUJCET Preparation Strategies, Tips. Stick on till the end and do not miss any section of the article.
How To Prepare For GUJCET 2022? Preparation Tips, Strategies
| | |
| --- | --- |
| Organization Name | Gujarat Secondary and Higher Secondary Education Board (GESB) |
| Exam Name | Gujarat Common Entrance Test (GUJCET) |
| Category | Preparation Tips |
| Admissions to | Admissions in Degree Engineering, Diploma/ Degree Pharmacy Courses |
| Official Website | gseb.org |
How To Prepare For GUJCET 2022?
Preparation is the word that the majority of the aspirants are worried about. How to Prepare for GUJCET 2022? This is the doubt that keeps revolving. Consequently, GUJCET is one of the most popular state-level engineering entrance examinations. Read the full article on How to Prepare for GUJCET 2022? Preparation Tips, Strategies. However, if students study with full commitment and have a good strategy thought out, they have a high chance of scoring good marks in the exam.
Tips To Crack For GUJCET Exam
The question of How to Prepare for GUJCET 2022? Is always turning around. But, if you have the right tips to crack GUJCET 2022 then you are on the right track to success. Additionally, do take notes. Let us begin. Some of the key essential tips to crack GUJCET 2022 are as follows.
Cultivate a study routine.
Make a study timetable.
Gather resources which are covering the foundational concepts.
Understand the pattern of questions.
Always make a time slot division.
Take timely revisions.
GUJCET Exam Pattern
Name of the Subject
Number Of Marks
Duration Of the Test
Physics
40
3 Hours (180 Minutes)
Chemistry
40
Mathematics
40
Biology
40
GUJCET 2022 Common Preparation Tips
Apart from the points mentioned above. These are GUJCET 2022 Preparation Tips. Aspirants put them on a regular implementation. Practice with fullest efforts and you will ace your exam.
Firstly, Be aware of the exam pattern and marking structure.
Secondly, Have a clear understanding of the syllabus.
Thirdly, Create a properly structured plan on regular basis.
Fourth, Ensure that you have proper study tools/resources.
Finally, Analyse your weak/complex subjects/topics.
GUJCET Preparation Strategy & Tips
This section clearly identifies the detailed structure of the GUJCET Preparation Strategies & Tips. Do not miss any of the major details given. Here are the details.
Know the Syllabus
Knowing the syllabus for GUJCET 2022 will help the candidates to accordingly prepare.
In your preparation, you can divide out the topics/units.
You will also be aware of what you have mastered.
Exam Pattern orientation
The exam pattern of GUJCET 2022 will give you the orientation of the scheme of the topics.
You will know the details about the number of questions
You will be more familiar with the patterns/changes.
Attempt Mock Tests
Choose online mock tests for instant practice
Check GUJCET 2022 sample papers.
Habituate timely slot-based revision.
FlashCards and Note-taking
Flashcards for quick memorizing.
Short notes for easy revision.
Cover all the major/important/complex topics.
Stay Healthy Physically and Mentally
Calm your mind.
Take timely breaks.
Do a refreshing activity.
GUJCET Study Material
Gujarat CET Previous Question Paper – Important Link
To Download Gujarat CET Previous Year Question Papers PDF
Click Here
Download GUJCET Mathematics Question Paper PDF
Click Here
Gujarat Common Entrance Test Chemistry Previous Paper
Click Here
To Download GUJCET Physics Model Paper PDF
Click Here
To conclude, this article has removed your worry about how to prepare for GUJCET 2022? Subsequently, all the realistic preparation tips and strategies for GUJCET 2022 are in one place. Very easy to trace out. Stay connected to our website Exams.Freshersnow.Com to get all the latest news.