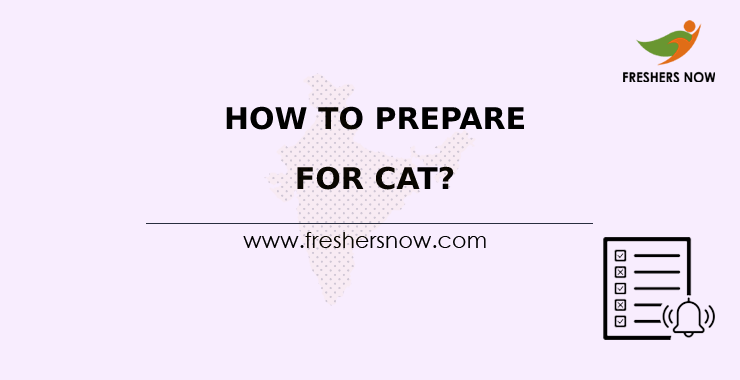 How To Prepare For CAT 2022? Preparation Strategy & Tips: CAT exam is a National exam and candidates who are wondering How to prepare for CAT Exam? Then you are in the right place to find the preparation for the CAT Exam. For every MBA aspirant, there should be a clear plan and effective CAT strategies to execute his/ her preparation. To make your work a little easier Exams.Freshersnow.Com has given preparation strategies to crack CAT. And to clear your doubt of How to crack CAT with self-preparation? Do not miss any section of the article.
How To Prepare For CAT 2022? Preparation Strategy & Tips
| | |
| --- | --- |
| Organization Name | Indian Institute of Management (IIM) |
| Exam Name | Common Admission Test (CAT) |
| Category | Preparation Tips |
| Admissions to | For Admissions Into Post Graduate courses, FPM Courses |
| Official Website | iimcat.ac.in |
How To Prepare For CAT 2022?
CAT Exam was conducted by one of the top IIMs ( Institute of Indian Management). For every candidate, the big question is, How to prepare for the CAT exam? You need to have a schedule and plan to achieve the goal. Dedicate your time and efforts in your preparation for CAT Exam. The achievement of doubt How to prepare for the CAT Exam? begins with slotting every section and dealing according to the topics that are involved in the CAT examination.
CAT Preparation Strategy
CAT exam demands preparation Strategies. This section of the article will give you the details of the CAT Preparation Strategy. Eliminate your doubt about How to prepare for CAT Exam? with these realistic strategies.
You need to be perfect in basics for Verbal Ability and reading comprehension, data interpretation, and logical reasoning, and quantitative aptitude.
Identify your strong and weak topics in the syllabus given for the CAT exam.
Focus on the important topics and if you are weak, spend extra time on them.
Keep on taking mock tests that will make preparations for the final exam.
Track your progress on a daily basis.
6 Ways To Crack CAT with Self-preparation
Want or crack CAT by Self Preparation? Here are 6 ways to crack CAT with self-preparation. Preparing for CAT by yourself is a major step. Dedicating yourself to the exam is the priority. So, here are the 6 ways to crack CAT with self-preparation.
Knowing the exam pattern and syllabus in detail. You need to go through all the previous years' questions and analyze them.
There will be a lot of study materials but you need to find out the best materials and books in the market.
Utilize most of your time for CAT exam revision.
Make sure you have a proper reading schedule.
After reading every section of the topic, attempt the mock tests.
You can also discuss with your friends in order to know the information that you did not study. Group study will help you to discuss your weak topics and get them explained.
Looking forward to more Preparation tips for CAT? Here are the key points that you can consider- Take websites, news, and other social media information as a resource for your CAT exam. Have self-confidence, courage, and motivation in cracking the CAT exam.
Section Wise Preparation For CAT 2022
This section is for those candidates who are looking for Section Wise Preparation for the CAT exam. Get note of all the details and keep in regular practice. Here is the section-wise preparation for the CAT exam. How to crack CAT with self-preparation? will be cleared through these key points.
Section-wise Preparation for the CAT exam begins with, Verbal Ability and Reading Comprehension, start reading as soon as possible. In this area, you need to cultivate vocabulary, grammar styles, comprehensive writing, and a habit of reading over time.
Secondly, Data Interpretation and Logical Reasoning, you need to be well versed in calculations, formulae, etc.
Lastly, in Quantitative Aptitude, you need to know methodologies to quickly solve and be present in memorizing shortcuts.
Step By Step Preparation Strategy for CAT
This section will be helpful in giving you the Step by Step Preparation Strategy for the CAT examination guiding you to prepare for the CAT exam more effectively. Here are some of the preparation strategies for the CAT Examination.
Step 1: Collect the Exam pattern and syllabus
Step 2: You can have a self-preparation and also go for coaching.
Step 3: Select the best books to prepare for the CAT exam
Step 4: Make a timetable for every subject.
Step 5: Managing your time for every topic is a must and valuable.
Step 6: Attempt as many mock tests as you can. This will guide you to know your flaws in every topic.
Step 7: Solve the previous year's papers along with the mocks.
CAT Self Preparation Tips
CAT Preparation Tips: Self Preparation is discussed below. Implementing these tips in self-preparation will qualify you with the best score. So CAT Self Preparation Tips will guide you in your schedule-
Understand the exam syllabus and pattern, before you start.
Segregate your strong topics and weak topics.
Collect all the materials and books
Put some extra time into learning the weak topics.
Practice as a mock test sectional-wise.
So, these are some of the preparation tips and strategies for the CAT exam. Do not worry about How to crack CAT with self-preparation? We hope these will guide you. For more information, you can stay connected with our website @ Exams.Freshersnow.Com.