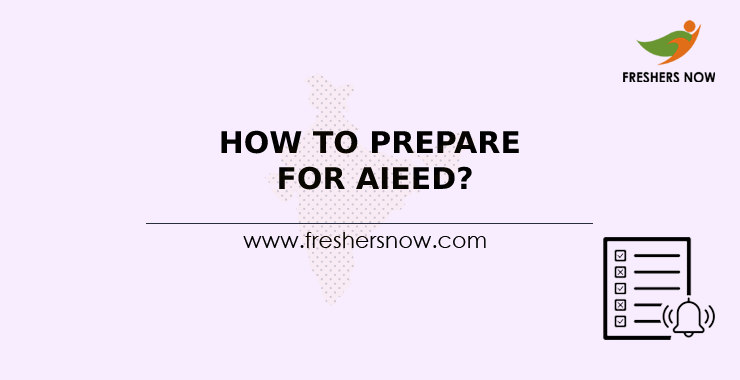 How To Prepare For AIEED 2022? AIEED Entrance Exam Preparation Tips & Tricks: Looking for Tips to crack AIEED? Well, you have landed in the right place. This article will guide you through How To Prepare For AIEED Exam? Additionally, you will also have a takeaway of Stage wise preparation tips. Candidates who have the will to have a career in designing courses have to qualify for the AIEED exam.
To be a successful designer you need to have a perfect preparation plan. That is what the article is going to help you with. Crack the AIEED Entrance Exam with the right AIEED preparation strategies. Follow every section of the article for more detailed preparation tips for AIEED Exam Preparation.
How To Prepare For AIEED 2022? AIEED Entrance Exam Tips & Tricks
| | |
| --- | --- |
| Organization Name | ARCH Academy of Design |
| Exam Name | All India Entrance Examination for Design (AIEED) |
| Category | Preparation Tips |
| Admissions Into | To provide admissions into UG, PG Design Programs offered by ARCH Academy of Design |
| Official Website | www.archedu.org or aieed.com |
How To Prepare For AIEED Exam?
Thinking How To Prepare For AIEED 2022? This part of the article will answer your questions. Aspirants often get confused about the preparation strategy and how to crack the AIEED exam.
To begin with, you need to check the syllabus.
Next, prepare a timetable according to the complexity of topics.
Along with these, you need to manage your time.
You should be well aware of the types of questions that you are dealing with as there might be complex questions.
Know the resources that you are executing in your preparation stage.
Do not waste your time going through all the study materials.
Understand the parameters that are set for the study guides.
AIEED Preparation Tips & Tricks
Preparation tips and tricks to crack the AIEED Entrance Exam are very adaptable. This section of the AIEED article will rightly help you to understand How to Prepare for AIEED? AIEED Tips and Tricks.
Candidates who you feel like a little too tough in your preparation then do not miss any of the tips given below:
Remain vigilant at all times.
Master your skills.
Be innovative and ingenious.
Be attentive to every detail.
Check out the previous year's papers.
Tips To Crack AIEED Entrance Exam 2022
Tips to crack the AIEED exam are very easy and handy for regular use. With the right implementation of these tips, you will be able to ace your exam. Simple AIEED preparation tips will help you to showcase your creativity and a diligent preparation plan. Implement them in your daily preparation and you would be able to crack your AIEED exam.
Practice Illustrations.
Strategize your exam pattern.
Stay confident and positive.
Increase your speed and accuracy.
Assessment on regular basis.
Stage Wise Preparation Tips for AIEED Exam
Stage-wise Preparation Tips for AIEED are mentioned in detail in this section of the article. For the AIEED exam there are three stages that a candidate needs to attempt.
You need not worry or keep yourself in doubt in the preparing stage-wise preparation. Check out the following points for stage wise preparation tips-AIEED
Stage 1: GAT (General Aptitude Test)
Set a timer in preparation.
Gather your sources.
Segregate the weak topics.
Stay connected to current affairs.
Check design- relates affairs and global issues.
Stage 2: CAT (Creative Aptitude Test)
Improve your verbal and writing skills.
Make a habit of reading books and going through the work of the top designs.
Practice a lot of lateral thinking.
creative problem-solving.
Good at basics/ foundations.
Stage 3: Personal Interaction Round
Be ready with your documents and best portfolio.
Do proper research before you attend the interview.
Let not your portfolio be too bulky.
Be confident in answering the questions.
Be patient and do not rush.
Preparation Tips For AIEED Entrance Exam
AIEED exam contains three sections. To ace all the sections you need to have AIEED preparation tips on your fingertips. Below are the preparation tips for AIEED-
Refer to the sample tests and practice them.
Check out the topics you are lacking behind.
Improve your design skills.
Make sure you read newspapers and books regularly.
Plan a routine Time table.
Follow the trending Designs in the market.
Be careful in answering the questions.
Make daily assessments.
Be accountable in your revision sessions.
Maintain good mental health.
Thankfully, the AIEED preparation article has guided you with effective information regarding Tips to crack AIEED as well as removing your worry about How to prepare for the AIEED exam. For further information, and exam preparation articles stay connected with our productive website Exams.Freshersnow.Com.