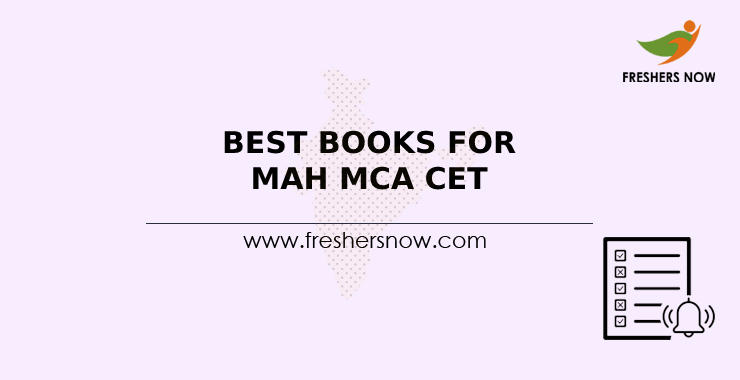 Best Books For MAH MCA CET 2022 Preparation | MAH MCA CET Books: MAH MCA CET Books are here. Are you looking for the Best Books For MAH MCA CET 2022 Preparation? Well then, here you are, with the MAH MCA CET Books. This article will guide you through the list of books for MAH MCA CET 2022. As you follow along, ensure that you are taking notes so that you will not miss any of the information provided in this article. Additionally, look out for the criteria o your preparation so that you can pick out the MAH MCA CET Books conveniently. Read through all the sections and do miss any of the books.
Best Books For MAH MCA CET 2022 Preparation – Subject Wise
MAH MCA CET 2022 Computer Books
Object-Oriented Programming With C++ – Balagurusamy
Operating System Concepts – Silberschatz
Java: The Complete Reference – Herbert Schildt
Computer Fundamentals – P.K Sinha
General Aptitude Books for MAH MCA CET 2022
Verbal Ability – Wren & Martin
Mathematics For MCA Entrance Examination – Neelam Choudhary and Amit Choudhary
MCA CET Maharashtra – Chandresh Aggarwal
A Modern Approach To Logical Reasoning – R.S Aggarwal
MCA Entrance Exam Guide – RPH Editorial Board
Best MAH MCA CET 2022 English Books
Objective General English by S.P. Bakshi
English Grammar & Composition by S.C. Gupta
Objective English for Competitive Examination by Hari Mohan Prasad & Uma Sinha
General English for All Competitive Examinations by S.C. Gupta
Tips & Techniques in English for Competitive Exams by Disha Experts
MAH MCA CET Reasoning Books
Verbal and Non-Verbal Reasoning by Dr RS Aggarwal
Analytical Reasoning Books by M.K Pandey
Reasoning Books for Competitive Examinations by Pearson
Lucents Verbal Reasoning
A new approach to Reasoning Books By B.S. Sijwali & S. Sijwali
Arihant
Multi-Dimensional Reasoning Books by Mishra & Kumar Dr. Lal
Maharashtra MCA CET 2022 Maths Books
Handbook of Mathematics by Arihant experts
For Competitive Exams Vedic Mathematics by Ramnandan Shastri
Objective Arithmetic (SSC & Railway Exam Special) by R.S Aggarwal
Arithmetic Subjective and Objective for Competitive Examination
Teach Yourself Quantitative Aptitude by Arun Sharma
To conclude, all the Best Books For MAH MCA CET 2022 Preparation are mentioned in this article. Implement these MAH MCA CET Books and ace your exam. Follow Exams.Freshersnow.Com for more informative articles.