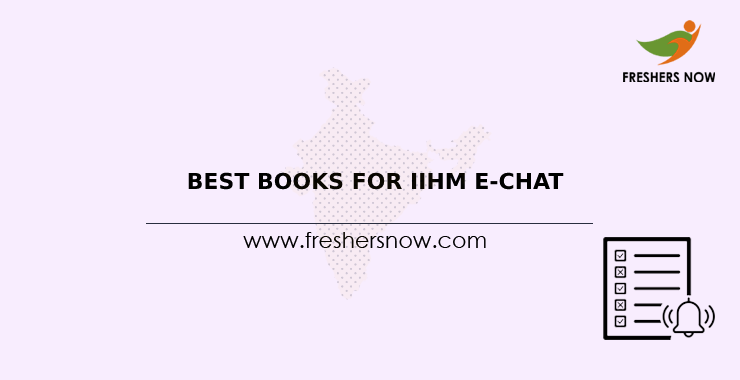 Best Books For IIHM e-CHAT 2022 Preparation: Books For IIHM e-CHAT 2022 are here. Finding the Best Books For IIHM e-CHAT 2022 Preparation. Wondering which list of Best Books For IIHM e-CHAT will be helpful for preparation. Well then, you have come to the right article. This page will guide you through IIHM e-CHAT 2022 Best Books. Consider reading along and do not miss any section of the article. You can have all the essential books that you are considering for exam preparation.
Subject Wise Best Books For IIHM e-CHAT 2022 Preparation
IIHM e-CHAT English Books
Objective General English- S.P Bakshi
Arihant General English
Plinth to Paramount by Neetu Singh
Objective General English by S.P. Bakshi
English Grammar and Composition by SC Gupta
Word Power Made Easy by Norman Lewis
Objective English for Competitive Examination by Hari Mohan Prasad and Uma Sinha
General English for All Competitive Course by SC Gupta
Tips and Techniques in English for Competitive Exams by Disha Experts
Essays for Civil Services and Other Competitive Exams by Pulkit Khare
IIHM e-CHAT General Knowledge and Current Affair Books
Arihant General Awareness by Manohar Pandey
Static General Knowledge by AP Bharadwaj
Current Affairs Half Yearly 2021
The Hindu, Times of India newspapers
Lucent's General Knowledge
General Knowledge by Arihant
Rapid General Knowledge 2020 for Competitive Exams by Disha Experts
R.K. Saxena General Knowledge 2020
IIHM e-CHAT Mathematics Books
OSWAL Quantitative Aptitude
Quantitative Aptitude by R.S Aggarwal
Quantitative Aptitude for Competitive Examinations by Abhijit Guha
Handbook of Mathematics by Arihant experts
For Competitive Exams Vedic Mathematics by Ramnandan Shastri
Objective Arithmetic (SSC & Railway Exam Special) by R.S Aggarwal
Arithmetic Subjective and Objective for Competitive Examination
Teach Yourself Quantitative Aptitude by Arun Sharma
IIHM e-CHAT Intelligence And Critical reasoning Books
A modern approach to verbal and non-verbal reasoning by R.S Aggarwal
How to prepare for Logical Reasoning by Arun Sharma
Shortcuts in Reasoning (Verbal, Non-Verbal, Analytical & Critical)
A Modern Approach to Logical Reasoning – R.S. Aggarwal – S.Chand
How to Crack Test Of Reasoning – Jaikishan, and Premkishan – Arihant
Multidimensional Reasoning – Mishra and Kumar Dr. Lal – Upkar's
Analytical Reasoning Books by M.K Pandey
Reasoning Books for Competitive Examinations by Pearson
Lucents Verbal Reasoning
A new approach to Reasoning Books By B.S. Sijwali & S. Sijwali Arihant
Multi-Dimensional Reasoning Books by Mishra & Kumar Dr. Lal
You have got all the Best Books For IIHM e-CHAT 2022 Preparation. Good luck with your exam. Use this list of Best Books For IIHM e-CHAT 2022. Stay connected for more informative articles here at one place at Exams.Freshersnow.Com.