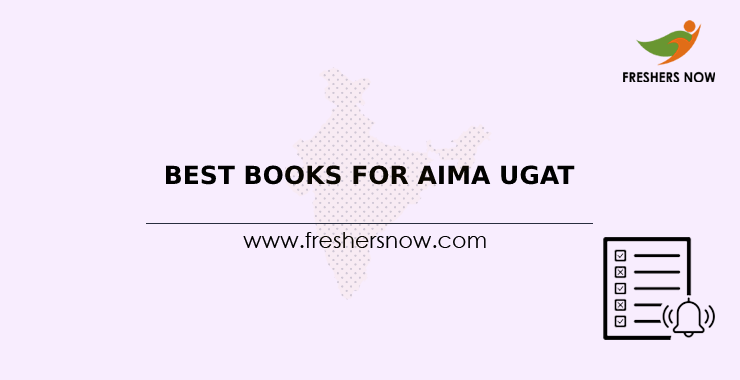 Best Books For AIMA UGAT 2022 Preparation | AIMA UGAT Books: Ace your preparation with the Best Books For AIMA UGAT 2022 Preparation. Using the best preparation books for this exam will help you enhance your preparation levels. You have come to the right space to grow your exam preparation. All you need to do is to make sure that you are well aware of the exam criteria and the standard of your preparation. Follow through this article and make notes at your convenience.
Section Wise Best Books For AIMA UGAT 2022
AIMA UGAT English Language Section Books
Word Power Made Easy by Norman Lewis
Objective English for Competitive Examination by Hari Mohan Prasad and Uma Sinha
General English for All Competitive Course by SC Gupta
Tips and Techniques in English for Competitive Exams by Disha Experts
English Grammar & Composition by S.C. Gupta
High School English Grammar and Competition by PC Wren and H Martin
Word Power Made Easy by Lewis Norman
Books for AIMA UGAT Numerical & Data Analysis Section
Magical Book on Quicker Maths – M Tyra
30 Days Wonder for Maths – S Chand
Quantitative Aptitude for Competition Exam – R S Aggarwal
The Pearson Guide To Quantitative Aptitude For Competitive Examination
Wiley's Quantitative Aptitude Book
Quantitative Aptitude for all Competitive Exams – Abhijit Gupta
AIMA UGAT Reasoning & General Intelligence Section
Verbal and Non-Verbal Reasoning – R S Aggarwal
Lucents Verbal Reasoning
A new approach to Reasoning Books By B.S. Sijwali & S. Sijwali Arihant
Multi-Dimensional Reasoning Books by Mishra & Kumar Dr Lal
Modern Approach to Logical Reasoning – R S Aggarwal
Analytical Reasoning – M K Pandey
Best Books for AIMA UGAT General Knowledge Section
Manorama Yearbook – Malayala Manorama
General Knowledge Manual 2020 by Pearson
Manohar Pandey's GK
R.S. Aggarwal's S. Chand's Advanced Objective General Knowledge
General Knowledge – Lucent
General Studies – McGraw Hill
To conclude, the article has guided you with all the relevant Best Books For AIMA UGAT 2022 Preparation. Follow Exams.Freshersnow.Com for more informative articles.