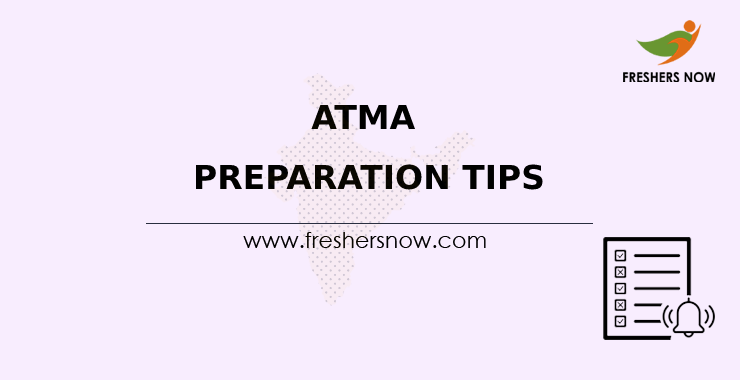 ATMA 2022 Preparation Tips | ATMA Exam Preparation Strategy, Study Plan: AIMS Test for Management Admissions is a crucial entrance examination for MBA admission. To crack this exam you need to know the essential tips and tricks for ATMA. The article will guide you through the How to Prepare for the ATMA examination as well as give you the preparation tips for ATMA.
How To Prepare for ATMA Exam?
Wondering How to Prepare for ATMA? Well, there is nothing to worry about because Exams.Freshersnow.Com has got you a very well-guided plan for study. Do not miss any section of the article for all the information regarding the ATMA Preparation Tips & Tricks. As the ATMA Entrance Exam is conducted section-wise you need to clearly understand the schedule making in order to prepare for ATMA. If you are starting your ATMA Exam Preparation make sure that you have a pre-plan ready for implementation. Eventually, you would be able to sort out all the processes of preparation.
ATMA 2022 Preparation Tips | ATMA Exam Preparation Strategy, Study Plan
| | |
| --- | --- |
| Organization Name | Association of Indian Management Schools (AIMS) |
| Exam Name | AIMS Test for Management Admissions |
| Category | Preparation Tips |
| Admissions to | Various Post-Graduate Management Programs like MBA, PGDM, MCA, MMS, and other management Post Graduate courses |
| Official Website | atmaaims.com |
How To Prepare For ATMA Exam in Three Months? Tips & Tricks
This section is for all the aspirants who are having very little time and thinking How to Prepare for ATMA Exam in Three Months. So, if you are that person, read these parameters carefully. If you are having very little time, make sure that you are surrounded with quick handy notes and then you can follow these steps. Tips and Tricks for the ATMA exam are
Make weekly targets.
Set goals on a daily basis.
Check the repeated and important topics.
Practice at least 10 questions from each topic.
Gather the recent question papers.
Keep making notes whilst preparing.
Memorize all the formulae shortcuts.
Always follow ATMA study materials.
Speak out the topic explanation.
Take a mock test once every 4 days.
ATMA Entrance Exam Tips and Tricks
ATMA Tips and Tricks are quite easy to follow if you have the gut to qualify in the ATMA examination. Better late than never, start noting down these practical ATMA Tips and Tricks and ace your preparation.
To begin with, candidates who are preparing for the ATMA Exam should be well focused on the syllabus and the resources that they are using. Because this might be an essential step for sorting out the strategy for the ATMA examination.
Secondly, subject-wise prep is one of the ATMA Tips that you can follow. Through this, you would not be confused as well as be organized enough to finish your preparation with confidence.
Thirdly, note-taking is considered as one of the major ATMA Tricks that can help you for easy revision, quick glance of the topic and it will also be a referring tool. Try implementing this in your ATMA preparation.
Fourth, ATMA Tips is comprehensive reading, building this habit will help you to stay focused as well as easy to understand the hectic topics in an easy manner. ATMA Tips of comprehensive reading will enable you to be a fast learner and eventually finish the topic with ease.
Fifth, ATMA Tricks is to be fundamental on time. Make sure that you are having set the right timetable, scheduling classes and learning sessions with proper breaks. Giving yourself some space to do an activity is a hobby, so it would be helpful to become a pro in time management.
Last-Minute Preparation Tips for ATMA 2022
Nervous? Looking for Last-Minute Preparation Tips for ATMA. Here are a few Preparation Tips for ATMA. This is an obvious fact that undergoing a few days before the exam is nerve-wracking. However, this section will cover you with realistic Preparation Tips for the ATMA examination. Consider these if you are having a little time to prepare for the ATMA exam.
Do not take any extra notes.
Make sure that you are adequately revising.
Revise the solved papers.
Go through all the formulae shortcuts.
Read according to sections/topics.
Understand the importance of the categorized topics.
Keep your resources handy.
Section Wise prep is essential
Have a strategic preparation for ATMA.
Be confident and maintain sound health.
Section Wise ATMA 2022 Preparation Tips
How to prepare for ATMA has been cleared and to get into more details we are now looking into Section-wise ATMA Preparation Tips. Just a brief outlook of all the section-wise ATMA tips. Section-wise ATMA Preparation Tips are as follows-
Analytical Reasoning: Questions in this section are quite moderate. Questions are from both Analytical Reasoning and Critical Reasoning. You should make sure to understand the topics and the core concepts alongside practicing previous question papers.
Quantitative Ability: Quantitative questions are quite complex but not difficult. ATMA Preparation Tip can be done by solving the questions from NCERT Mathematics textbooks. Memorizing shortcuts for formulae will help you in the long run.
Verbal Ability: Reading Comprehension and Verbal Ability/ English are the components. Practice grammar and vocabulary for adaptability. Learn the foundational grammar from Class 8 and Class 9 grammar books and for verbal skills, read newspapers, magazines, and books.
To successfully qualify for the ATMA examination you need to put in the effort and invest time with the fullest potential. Good luck with the test and stay tuned for more informative articles here at Exams.Freshersnow.Com.