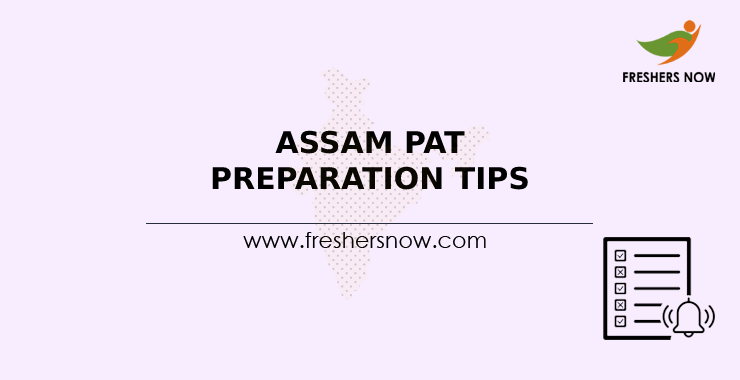 Assam PAT 2022 Preparation Tips | Polytechnic PAT Preparation Strategy, Guide: Want to know about Assam PAT 2022 Preparation Tips? then this article hep through it. All the Assam candidates who completed their 10th and 12th standards can approach the Assam Polytechnic PAT 2022. Assam Polytechnic PAT 2022 will be conducted by the Directorate of Technical Education in Assam. Assam PAT 2022 is state level exam and it will be a little stressful to prepare for the PAT exam. To give a clear idea of how to prepare for Assam PAT 2022, we have given preparation tips, preparation strategies, and Last minute revision tips. Do not skip any of the information given in sections.
Assam PAT 2022 Preparation Tips – Overview
| | |
| --- | --- |
| Organization Name | Directorate Of Technical Education, Assam (DTE Assam) |
| Exam Name | Polytechnic Admission Test (PAT) |
| Category | Preparation Tips |
| Exam Purpose | For Admission into 3 Years Diploma Courses for 2022-23 Session |
| Official Website | dte.assam.gov.in |
How To Prepare For Assam PAT 2022?
In this section, we have provided Assam PAT 2022 Preparation Tips for the candidates who felt tough with the exam. Use these preparation tips in your exam preparation. Here are they:
Gather Proper Study Materials
Study materials help the candidates to give details information on all the topics in the syllabus. There will be many books on the market but check the edition and take the best books to read. Along with the books, candidates can use the test series at the back of the books. This gives you clarity regarding the question types and models.
Prepare a Balance Study Plan
Without a study plan, candidates cannot go forward in their preparation. Draw a perfect study plan in keeping the syllabus and weightage of topics in mind. Have a clear understanding of all the core concepts for the examination. Know the exam pattern, and syllabus and prepare the study plan. From this, you have a picture of your strengths and weakness. Give a specific time for the weak topics.
Maintain your health
Your health is very important while you are preparing for any examination. Maintain your health and concentrate on the examination. Have a sound sleep and also have a balanced diet. Keep yourself away from all sorts of stress. Be confident and positive in the time of last preparation
Working on Time
While preparing for Assam PAT 2022 exam, candidates need to be disciplined in their timing. Every second of the preparation is valuable. Candidates should have proper time management skills while they are attempting for the Assam PAT 2022. Segregate your time equally for all the topics and subjects. Do not waste your time spending long hours on a particular topic
Revision is must
Many of the candidates will be skipping the revision time and getting into the new topic. This will create a half-knowledge on the topic. After the completion of the day plan, allocate a particular time to revise. This will help you to imprint the topic in your brain and you can answer the questions from the topics
Assam PAT 2022 Test Pattern
Parameters
Details
Exam Mode
Offline Mode
Total Marks
100 Marks
Duration
2 Hours
Subjects
Science, Mathematics
Type of Exam
Objective Type
Marking Scheme
1 mark will be given for each correct answer
There is no negative marking for the wrong answer
Assam Polytechnic PAT Preparation Strategy
Every candidate has their own preparation strategy. We shouldn't compare one preparation strategy with others. So, to help the candidates we have given Assam Polytechnic PAT Preparation Strategy in this section. Check out them:
Refer to Previous Question Papers
Referring to the previous question papers is a must as it gives you the knowledge of the model of questions and question types. Also, practice mock tests online. This helps to know the time that you spend on a particular question. As you keep on practicing, your weakness will come into strengths.
Watch Tutorials
There will be tough parts in preparing for the Assam Polytechnic PAT exam. So to avoid that toughness, candidates can watch the tutorials. They will explain to you in detail and you have a clear understanding of the topic. There are many websites, just follow the right website to know the right information
Get Familiar with the Syllabus
The syllabus needs to be checked on the official website. Download the prescribed syllabus and assign a timetable for it. In this divide the topic with which you are unfamiliar and go through it. Spend quality time on all the weak topics.
Last Minute Preparation Tips for Assam Polytechnic PAT
The last days are very important to the candidates. You shouldn't take the time as usual but revise what you have prepared. Check out a few tips to be included in your last-minute preparation:
Complete your syllabus before a month and start revising the topics in the last month
Do not keep on studying but have a fresh mind while you start any topics. So take little breaks in the meantime.
Do not overwhelm by exam fear and stress. This will kill your energy and concentration
Attempt mock papers as many as you can at the last minute
Keep your health safe and sound
We have provided detailed Assam Polytechnic PAT Preparation tips, strategies, and last-minute preparation tips. Start your preparation early and ace your exam. For more details stay connected to our website @ Exams.Freshersnow.Com.